Panty Lions
So Dang Rad (Amazing Grease)
By: Alex Steininger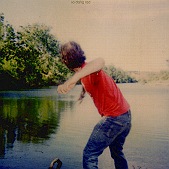 Airana Murray and Ashod Simonian, both of the California-based rock outfit Earlimart, had been working on the Panty Lions before Earlimart was a band. However, with a lack of self-esteem and recording prowess, someone the Panty Lions took a back seek and they focused on Earlimart.

With an idea to record an album entirely on a green nylon string guitar from Tijuana (Ashod) and a borrowed Telecaster (Ariana), the two finally set out to record a Panty Lions record. However, the recording process was interrupted several times, as the band gained and lost momentum. Somehow, though, they managed to complete the album, and with the help of their eight track recorder and the two instruments (though other instruments do accompany them at times), they created a cohesive, lo-fi record that sounds mature and experienced. A record any singer-songwriter would be proud of.

Whispery at times, and quite shy, So Dang Rad seems content just playing on your stereo. It doesn't demand your attention or sulk over the lack of it. However, from the opening, home spun note of album opener "Dedication" through the melodic "Tell Yer Lover I said Hi", or the relaxed closer "Going Down", the Panty Lions deliver a fine album of solid songwriting and simplistic, yet great melodies. I'll give it an A-.