Maroon5
Songs About Jane (Octone Records)
By: Alex Steininger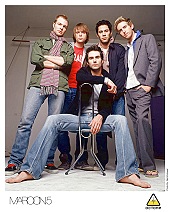 The soul has been sucked out of so much music nowadays, it's nice to hear a band like Maroon5, one that thrives on the soul, loves to sooth the listener over with pop grooves, and isn't afraid to get a little funky in the process.

Songs About Jane is an eclectic, breezy album consisting of relaxing pop ("She Will Be Loved"), party time funk ("Harder To Breathe"), soul ("Sunday Morning"), and a little toned down retro rock tossed in for good measure ("Not Coming Home").

Think Lenny Kravitz without the identity crisis. Maroon5 can travel the map of musical genres and come out smelling fresh each time, delving into various styles, meshing them, and creating a song that will either force you to move and smile, or take you away to a tropical island where you're resting and soaking up the sun. It's refreshing, relaxing soul-funk-pop with a lot to offer. I'll give it a B+.