Haven
Between The Senses (Virgin Records)
By: Alex Steininger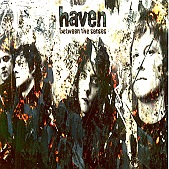 The UK's Haven find solace in their music, as will the listener after spinning the twelve beautifully moving songs on their debut full-length, Between The Senses. Led by the sweetly melodic voice of front man Gary Briggs, Haven delivers stellar melodies and soaring hooks, shining up their brand of pop with roaring rock, steady rhythms, and a subdued gentleness that helps propel the songs into several different categories.

Able to bring in all walks of life with their multi-dimensional sound, Haven focuses on crafting precious, expressive moments of beautiful. Songs that not only stick in your head and make you tap your feet along to the tune, but make you also take notice, listening to the words, and absorbing them. It feels as if Briggs is singing directly to you, penning songs about your unanswered questions, the bewilderment and frustrations you face daily. And he manages to make it entertaining, rather than depressing. All without losing a beat or missing a note.

Haven's melodic sense brings their picturesque tunes to new heights. Between The Senses will have you from the opening notes and you'll hold on for the ride. I'll give this an A.