Motorhead
Hammered (Sound Pollution)
By: Jeb Branin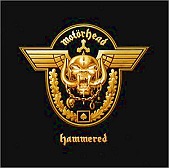 The release of a new MOTORHEAD is cause for celebration under any and all circumstances. They are, without a doubt, one of, if not THE, most consistently powerful band on the planet. In fact, if I am ever stranded on a desert island and can only have music from one band with me, I want the MOTORHEAD catalog. That said, the new CD Hammered is not one of the band's strongest efforts. It's adventurous use of melody (by MOTORHEAD standards, anyway) and experimentation threw me for a bit of a loop. It prevents the album from being instantly digestible and absorbed, a definite downer for long time fans who have come to expect (and love) the instant accessibility of each and every MOTORHEAD album. The upside is the fact that this album might very well prove to be akin to the Another Perfect Day album from 1983. On that album the band also explored adding new textures to their sound (thanks to the addition of Brian Robertson on guitar). Although it also threw fans for a loop at the time it was released, it has aged wonderfully and qualifies as one of the band's finest moments almost 20 years later. I doubt Hammered will ever grow on me quite that much, but I do expect I will spend more than a few dozen hours listening to it for years to come. Now before anyone goes off half-cocked (ouch!) don't get it in your head that Hammered is somehow wimpy or not worth your hard stolen cash. Even an average 'HEAD album is better than 99% of the crap out there. Yes there are some uniquely molded tunes on here ("Walk a Crooked Mile" or "Brave New World" - which sounds like it could have come straight from the ...Perfect Day sessions) and there is a lame spoken word poem that is flat out hysterical when it doesn't intend to be ("Serial Killer") but there are some moments of pure MOTHEADbanging as lordly and severe as ever ("Voices From the War" or "Red Raw" - one of the most viscous songs the band has EVER done). On a scale of one to ten the weakest 'HEAD albums would only rate as low as a 7 or 8 and Hammered is probably an 8 or 9, so, in other words, it is less than perfect coming from a band that often achieves perfection, but it is still an album you should definitely beg, borrow or steal.

Before I wrap up this review I do have to spit out a major complaint: MOTORHEAD was scheduled to play a gig in Salt Lake City with a few of other bands, including MORBID ANGEL and TODAY IS THE DAY. I drove eight hours (round trip) to catch the gig. When I got there MOTORHEAD had already arrived and after seeing that the venue had a small stage refused to play. I couldn't believe it. Yes, it must suck to be a legendary band and still be stuck playing small, hellhole venues but REFUSING to play because of the size of the stage is pure rock star posing...something MOTORHEAD has usually eschewed. The fact it was raining that day and some of their fans had stood in the rain for two or three hours before they cancelled only made it that much worse. Utah is a large yet sparsely populated state so people in the state (like me) have often driven several hours to be at a gig. Not to mention SLC is often the closest tour stop city for neighboring small states like Idaho and Montana and people often drive from those states to see shows as well (yes, I talked to people from both states who had come to the show). What MOTORHEAD did was inexcusable. Outsiders may see us as a bunch of hicks, and a lot of us are, but we are hardcore fans often making sacrifices to see bands that people in more densely populated areas would never even consider doing.