INTERVIEW: Superdrag
Off of the Majors, At Home on an Indie (Superdrag's Web Site)
By: Alex Steininger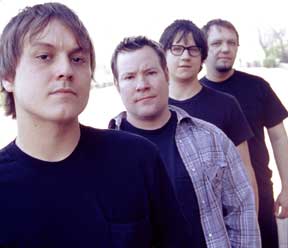 Being indie again has its advantages.

"I've been really happy with the situation," Superdrag frontman John Davis tells me. "Not only by being on a label like Arena Rock, run by friends we trust, which is very important; but also making records we don't have to second guess. With Elektra, every note of music you make has to go through a chain of command. It takes a lot longer for things to get done."

"The first phone call we made after we got off Elektra was to Arena Rock," he continues. "We told them we had half a record done and needed help finishing the rest of it and getting it out. They said yes, no questions asked."

Recorded in their practice space in Knoxville, only five minutes away from Davis' home, the band's fourth full-length, Last Call For Vitriol, is their finest accomplishment to date, a hearty portion of guitar-driven rock sitting atop sugary melodies.

The record is a first for Superdrag, with Davis, the principal songwriter, co-writing several tracks on the album and bassist Sam Powers penning a few of his own.

"I never really had the opportunity to co-write on the previous records," shares Davis. "It was exciting. I was a big fan of Sam's previous band. Matter of fact, his previous band did 'Stu' and I liked it so much I made him do it with us. I think he's sick of it. It's real natural and real easy to co-write with him. Every time we sit down to write a song we do something.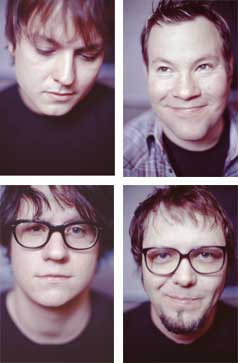 "Our new guitar player, Mike [Harrison], is a good songwriter, too. It's exciting to think about getting the next record done. There is so much more to draw from," says Davis. "Mike writes all the time. He even had some songs he wanted to try for this record. But he'd only been in the band for two months so he wasn't that hot on the idea of attempting them."
Will the band continue to co-write all the songs or will Davis continue to bring songs into the band, as he has done in the past?
"We'll probably continue to do both. Sam does things individually that he brings in to the band and I'm sure that I will do," Davis tells me.
Besides co-writing songs on the record, another thing that has Davis very excited about the forthcoming Last Call For Vitriol is the appearance of Guided By Voices frontman Bob Pollard.
"Greg from Arena Rock set it up for Bob Pollard to sing on our record," says an excited Davis. "We played a show with Guided By Voices about four years ago. That was when we first met and we've run into each other since. Greg struck up a friendship with their manager. Bob Pollard liked our band and was into singing on the record."
"We did it all through the mail," Davis says, regarding Pollard's vocal track on "Baby Goes To Eleven," the first track on Last Call For Vitriol. "We sent him a mix with a few empty tracks and he did his stuff. First thing we did when we got it back was play it back with all other vocals down, just Bob singing."
Davis, who sobered up during the recording of this record, has found extra meanings in his own songs. "It's weird," he confesses. "The songs were written beforehand. We were in the middle of recording and I reached a point where I had to change. I never read into those songs, but when I sobered up and looked into them I realized they were about change."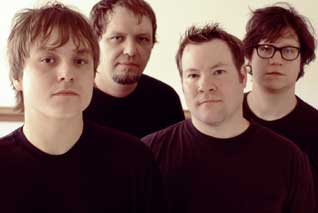 The mess of recording In the Valley of Dying Stars, the band's last full-length, with Elektra interfering at every turn, is behind them. The band couldn't be happier as it waits for Last Call's July 9 release.
"Last Call was the most enjoyable record for me to make and I'm sure the other guys would agree. Now we're going to tour and get it out there, and hopefully people will enjoy it.
"We're going to be touring as much as we can until Thanksgiving or so and then we'll take a break until mid-January and play it by ear as far as next year goes. It would be nice to have the next record done when we finish touring this record. Of course, that's always the plan, but it doesn't always work that way."