INTERVIEW: Blackalicious
Bay Area Hip-Hop Duo (Blackalicious' web site)
By: Bobby Wilms


PART I | CHIEF XCEL: THE DJ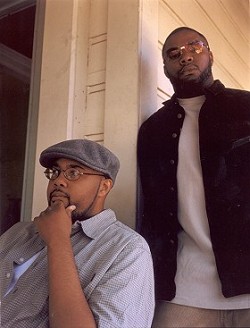 IMWT: How did Minneapolis treat you guys?
Xcel: Minneapolis was dope. It's always dope.
IMWT: The land of lakes and the land of Prince. Are you guys big Prince fans?
Xcel: Yeah, I'm down. I love Prince's shit.
IMWT: The new Blackalicious album boasts some amazing guest artists. How did the project evolve to include so many collaborations?
Xcel: We always put the body of the work first. So it was really the case of... ninety percent of the people that are on the album were all artists we liked a lot, people we were already friends with and had mutual respect for, and people we had already talked about working with over the last three years. So everything sort of happened. Everything was really organic. It was the type of thing where, as songs evolved, we would ask ourselves whose energy or voice would sound really dope on this.
Case in point, when we did "First in Flight" with Gil Scott-Heron we were originally on tour with Ben Harper in the fall of 2000, and I originally did the beat on the bus and Gab had written the verses on the bus. So when we got home in December, Gab put down the vocals and he wrote the chorus... The original chorus was with him on it, but the more and more we listened to it... I was kinda like, who would sound dope on this: Gil Scott-Heron. And it just so happened that we had a mutual friend so we just basically went out to Harlem and picked him up, took him into to the studio and did it, you know what I mean? So everything just kind of evolved like that.
IMWT: In fact, "First in Flight" is a really great song, and it's fitting that you have the man who wrote "Whitey on the Moon" singing "All we got is rhythm and time, we go beyond the edge of the sky."
Xcel: Exactly.
IMWT: What's your favorite Gil Scott-Heron song?
Xcel: "Offering" is probably my favorite.
IMWT: Have you seen the cover to Moving Target? [Author's note: Gil Scott-Heron is photographed running in an oil field, and his picture is superimposed with the crosshairs of a gun site.]
(Xcel laughs.)
IMWT: Do you think that Gil Scott-Heron envisioned Whitey in the Space Station controlling Star Wars Systems, while Palestinians in the West Bank have no water, electricity, and risk getting shot during their morning walk? [Author''s note: Gil talks about the government spending all this money to militarize space, while people in Harlem are starving and without basic amenities.]
Xcel: Do I think he envisioned that? Ahhh, I think he... if he didn't envision it in that detail, I think he definitely had a concept of that was where it was going, you know.
IMWT: Another one of my favorite tunes on the new record is "Passion." How did that song take shape?
Xcel: Well, what happened was, I started working on the beat at home in Sacramento, and then we went down to Mario Caldato's house to work and we basically finished it there. We basically did "Passion" and "4000 Miles," the song with Charlie Tuna from Jurassic 5 and Lateef the Truth Speaker, around the same time so everybody was at Mario's during that period. So Rakaa, from Dilated Peoples, came through right when I was finishing the beat, and him and Gab just basically spent a day just really vibing out and figuring out where they wanted to go with it... and they came up with "Passion."
IMWT: It turned out to be a war cry for hip-hop expression: "An open microphone can be a dangerous weapon."
Xcel: Definitely. "Passion" is another one of those songs that leads to the album, you know. The album's title is Blazing Arrow, and it's about faith and conviction, and "Passion" sort of represents the intensity of that conviction.
IMWT: And this is a great thing because with Nia [released in 2000] you came out with a record where you went through a period of exploration, finding out who you are as human beings and artists, whereas Blazing Arrow sounds like a statement that you are found, you have passion, and you're doing what you want to.
Well, Nia was about finding the path and Blazing Arrow is about walking the path. One of the things I wrote down in preparation for this interview was that it's one thing to know the road, and another thing to walk the road.
Xcel: Exactly, I agree with you. That's really what Blazing Arrow is about. You know where you're supposed to be, you know what I'm saying, but it takes strength to carry that out. It takes strength to endure, to overcome, to stay on the path. A lot of times people can get on the path, but they cannot go anywhere because they can't endure it. Faith is the arrow, you know what I mean. Faith is the strength within you.
IMWT: So how did you guys hook up with Zach De La Rocha?
Xcel: Zach... I first hooked up with Zach at a show that Cut Chemist and Shadow had for a CD they put out called Brain Freeze. They had a show at the El Rey in L.A., so that's where we first hooked up, and first started building or what not. So basically, we had this concept for this song that we wanted to do called "Release," which was going to be a song that takes place in just under ten minutes, sort of takes place in three movements. I knew for part one it was supposed to be the part in the song where Gab just spits out fire, where it was supposed to be like a Kuji Rap/Men at Work kind of thing that we wanted to do. I really wanted the part to build the intensity.
Xcel: Zach was really supposed to be the catalyst, to build the intensity 'til it got to a breaking point where it needed to be released into "Release Part II" with Saul Williams. So the way it came about was I was working on the beat and Mario [Caldato], Zach, and Saul came thru at the same time, and we really just... Before we really had anything to do, we just sat and vibed for a couple of hours talking about everything under the sun. So we eventually just went in and they heard it and really liked it and both did some really amazing work. We all were really vibing on the concept and most of us were dancing to some pretty amazing work.
IMWT: For "Brain Washers," with Ben Harper, did he play and sing on the record?
Xcel: Yeah, he played and sang. Gab wrote the hook and then Ben wrote the music.
IMWT: What instruments did he play?
Xcel: Man, he pulled out so many of his weapons, you know. He played everything from that [points to a Weisenborn] to a djembe, to a dulcimer, you know what I mean? Ben is amazing.
IMWT: He's got the voice of an angel and God.
Xcel: The dude can sing.
IMWT: Did you enjoy working with the various artists on the Sno-Core tour?
Xcel: That was cool because each night was a jam session, you know what I mean. It was different from a lot of other tours where it's just your set and then their set. With Sno-Core, everything was just so intermingled: we'd sit in with Ozo [Ozomatli], Saul would sit in with us, and you know, it was cool. It was dope.
IMWT: So did you get to mix with the live musicians in Ozo and Spearhead?
Xcel: Definitely. It was cool just like this tour... I mean this tour with Talib [Kweli] right now. It's a real family kind of vibe. Sno-Core was the same way.
IMWT: Did you guys sit in with Karl Denson on the tour?
Xcel: Yeah. Actually Lateef and Gab would sit in with Karl almost every night, Saul and Karl. So would our singers Joya [Velarde] and Erin [Enova].
IMWT: Do you guys see yourselves working with a live band along with your mixing in the future?
Xcel: Well, yeah, there's a lot of live musicians on Blazing Arrow. Actually, Karl Denson is on Blazing Arrow; he's on the song "Purest Love."
IMWT: Did you work with Harley White on this record?
Xcel: Yeah, that's my man. He played bass on most of the album. On the new album he's on "Make you feel that way," "Green Light"-- he's all over the place.
IMWT: Did you strike the new deal with MCA before you recorded the album?
Xcel: We had written a good 50-60 percent of the album before we even signed. Blazing Arrow, whether it came out on a major or independently, it was going to come out.
IMWT: On the subject of large corporations: if the Gap pays you guys a dumpload of money to sing "Give a little bit" and says you can give the money you make to an international labor rights organization, will you do it?
Xcel: Well, I wear Gap clothes so I'd be a hypocrite to say I'd never do a Gap ad when I buy their product, when I have a pair of their boxers on right now.
PART II | GIFT OF GAB: THE MC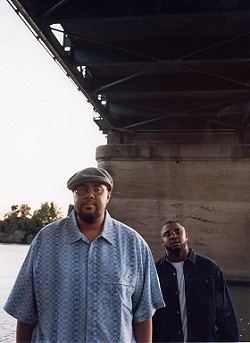 IMWT: How you feelin' today Gab?
Gab: I'm feelin' good, kinda getting' wokin' up here. On the road headin' out to New Orleans.
IMWT: So I'm going to start off with a quote from Dubois cause I've been reading lots of Dubois lately:
"It always surprises us finding folks like ourselves. We do not really associate with each other, we associate with our ideas of each other, and few people have either the ability or the courage to question their own ideas."
With Nia the theme of self-discovery, striving to keep the soul pure in this chaotic world, is prevalent. How important do you think it is to face yourself with a self-discerning eye?
Gab: I think that it's like a store, you got to take inventory like at a store. If you don't take inventory of the shelves and the product and how the store is going, the direction the store is going in; if you don't take inventory of your stock, then it becomes unmanageable. So I think it's vital that you take a look at things like that, you know what I'm sayin'... Every now and then.
IMWT: You went thru a personal struggle a few years back, and in the process of going thru that I imagine you found your purpose and conviction, which is what Blazing Arrow is all about.
Gab: And you are constantly finding yourself. It's not like one situation happens and all of a sudden, "Oh my gosh, I've found..." You know what I mean? It's constant, you know what I'm sayin', it's forever. Things are constantly happening, you know. Every day gets that clearer. It's not just one event. A lot of people are like, "Oh you've had a struggle, and you've become this." It's constant growth. That's just where I happen to be personally at that time-- You see, your headspace can be at one place, one time, and then you can grow and you can become wiser, and you can have a new perspective on it. With me I just always speak from the heart. But a lot of people blow things up.
IMWT: "First in Flight" and "Passion" are both songs that deal with similar issues of coming together as a person.
Gab: "First in Flight" is just about being free, free to be who you are and understanding that life is a victory. "Passion" is just about passion to be able to do what it is that you do and the energy that comes along with it.
IMWT: Pete Townshend of The Who once described the guitar as his machine gun, and musical expression his war. What are you fighting for with your microphone?
Gab: Creative expansion and growth. [Author's note: see Blazing Arrow for a more in-depth answer.]
IMWT: What are you listening to these days?
Gab: Right now I'm listening to the Outkast, to Gil Scott-Heron, Artificial World. I just got the Curtis Mayfield Anthology. The Beatles Abbey Road, Michael Jackson's Off The Wall. I'm listening to lots of stuff. Yeah, and I'm tryin...even with the Beatles, for what I used to listen to that was a stretch for me, 'cause I used to listen to certain types of music. I'm trying to open myself up and grow, even listening to music from other countries. Stuff like that and stuff that would be foreign to me. I'm really trying to listen to every type of music so that I can grow.
IMWT: And that's part of being a human being with love for life, you've got to be open to new things.
Gab: It's just like traveling. You can go to a different place and experience a different type of energy and it kinda opens you up and makes you grow, and opens you up to a part of you mentally that you may have not explored, having been to this new place and experiencing that energy.
IMWT: Blazing Arrow is a response to this environment and it exhibits your confidence in the path and your life, but surely, being human you fear. What is it that you fear?
Gab: God.
IMWT: Which makes you humble...
Gab: Yeah, definitely.
IMWT: Do you fear anything in your music?
Gab: Not really.
IMWT: Fear in art is death.
Gab: Well, not really because art is everything. Art can be that, and it can be everything. You see, you can't put any limits on what art is. As soon as you try to put your finger on what art is, it will just flip the script on you and it will become something totally different. The thing with art is, you can always break the rules because it can be anything, as long as it's good and as long as it's creative.
IMWT: As human beings we have pretty active minds; we have this incessant dialogue with ourselves. What's this dialogue like with you? I imagine someone as verbose and gifted at putting thoughts into words would have more difficulty quieting the mind and surrendering to the air than most.
Gab: I think that's a challenge for everyone, you know, because your constantly being fed information daily. Right now, wherever it is you're at, they got billboards, they got television, you may have a bunch of different people in the same room trying to talk to you at the same time. So you constantly getting fed information, and it takes effort to silence the mind like that.
IMWT: In the early sixties folk music was the voice of dissent. It brought over dialogue from a section of the population virtually ignored in the mainstream, and later in the decade rock n' roll took over. Do you think hip-hop has evolved into the voice of the underground for the 21st century, and what does it mean to you?
Gab: I definitely think that there are a lot of other art forms that express that same thing too, but I think that for that hip-hop is wonderful.
IMWT: It's quite an amazing sociological event that hip-hop has become the largest sector of the record industry, and it's preaching the word to suburban white kids who would never hear the type of stories told by you or Mos Def.
Gab: Anytime you deal with art you're dealing with something that has no limits on it. It's like there are no limits to where it can go. Like I said before, once you try to put your finger on it, it will break all the rules, and that's the beauty of it.
IMWT: What's your favorite Gil Scott-Heron song?
Gab: "Offering."
IMWT: That's the same as Xcel.
Gab: Yeah.
IMWT: I remember the first time I heard Gil Scott-Heron, it was probably five or six years ago, and I was with my super honky extended family and it set off an instant revolution in my mind. When was the first time you heard him and how did you feel?
Gab: First time I heard him my older brother was playing "The Revolution Will Not Be Televised." I was kinda young and it took me a few years. After I got older I kind of recognized it, but to really understand it, it took me a couple of years to get older and really take in everythin' that he was talking about. It's mind blowing.
IMWT: Will the revolution be televised?
Gab: We don't know. We'll have to wait and see. Only God knows that.
IMWT: A songwriter from Sacramento I know, Kenny Beasley, wrote: "It's a salty, salty world out there, cruel hearts, man they rule the earth. I put my hopes in the next generation boy and that mental rebirth." Your music has this same sense of optimism.
Gab: I think that words and music are positive vibrations and I think that there's a power in it. I mean think about it, when I was in high school I used to listen to certain music like Public Enemy, BDP and Native Tongues, I used to dress like them. I used to feel where they were coming from and it affected me everyday, what they was talkin' about. At the same time I was listened to N.W.A. or Compton's Most Wanted, that affected me. You know what I'm saying? I'm not dissin' anybody; everybody has their own story to tell, their own way that they relate to the world, and that's their experience. But I don't know, I just like to listen to music that inspires me.
IMWT: But if you listen to music that doesn't inspire you, do you just move on or what? I hear a lot of people that criticize music for better or for worse, and I sometimes fall into the trap of being, "this is shit" or whatever, getting down on what someone's expressing.
Gab: You can't do that because it's art, and you can't even say that art has to be positive, because on top of that everybody has their own story to tell, and has their own way that they relate to the world. So you can't be like, "you shouldn't listen to them because it's negative." It's all information and it's all creative.
IMWT: And that's the kind of the thing that happened when people started criticizing Dr. King before his death for being too critical of the U.S. Government, and not being the bearer of the holy torch of passive resistance that uttered the words "I have a dream." What he was saying was still relevant. You take the good with the bad, the ugly with the beautiful because life isn't perfect.
Gab: Because it's all of that and you can't escape it.
IMWT: Recently you did the Sno-Core Tour with a lot of unique artists. How was the experience of rhyming over Karl Denson's group?
Gab: It was dope! And that's what I was talking about before. That's growth right there. When you can get Saul Williams, Blackalicious, Spearhead and Karl Denson on the same tour, and everybody vibing, everybody jamming together in different styles of music, it all comes together and it's dope. That's how renaissances start: combining different energies, different styles with one another. I thought it was just dope.
IMWT: The renaissance you're talking about is happening in California: hip hop, groups like Karl Denson, Ben Harper, you guys, Shadow, etc. Did you jam with Michael Franti and Spearhead?
Gab: Yeah, we jammed with them a bunch of times, like every night on the tour. It was dope, like I said, it all just became one energy.
IMWT: Yeah, I'd like to see you and Franti collaborate.
Gab: Oh yeah, we talked about it.
IMWT: One of the things I admire a lot with Michael is he is completely unafraid of speaking his voice. He is a great truth teller. Did you listen to his last record?
Gab: Definitely. I thought it was incredible. Like you said, the message is incredible. It's a message of truth, and he's a phenomenal songwriter on top of that.
IMWT: I'm going to close out with another Dubois quote. I'm on this huge Dubois kick at the moment.
Gab: (Chanting) Dubois, Dubois--
IMWT: This is from an essay titled, "The Souls of White Folk": "High in the tower where I sit above the loud complaining of the human sea, I know many souls that toss and whirl and pass." Looking over the terrain of the world you criss-cross on tour, what do you see?
Gab: Traveling is kind of cool. I'm seeing different people. I see that we're all a human family, but we all have a long way to go to get to where we need to be, and I think that everybody plays a part.
IMWT: You seem like a positive person, but do you have the kind of focus to keep your mind and your feelings free from the malaise of war and chaos, very present today around the world?
Gab: Yeah, because I believe in God. I have faith that everything that's happening is for a reason, and like I said, I think that everyone plays a part. Ultimately, this is all what we make it. It's all temporary, but it's all that we make it. A lot of times I say, "Damn, look at the world," but I do have faith that it's all part of a greater plan. That's how I look at it.
IMWT: You've traveled down many roads in your life, what words would you say to kids who look at this world and don't see a future for themselves, or a purpose to life?
Gab: I say, listen to your heart, and everything isn't always what it seems. I think life is supposed to be a victory, and the struggles in life are only there to make you stronger. So know what's going on around you, but at the same time know that it's all happening because your spirit is in training.
IMWT: I couldn't think of a better ending. Good luck to both of you, stay healthy, peace.