The Waxwings
Shadows of The Waxwings (Bobsled Records)
By: Alex Steininger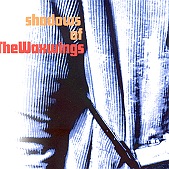 On their second full-length, Shadows of the Waxwings, the quartet, known for lush melodies, delivers a hot collection of near-perfect pop. From the opening of "Wired That Way", crawling with its lazy, psychedelic approach, the band creates a colorful, harmony-laden song that walks the line between sparkling pop and fuzzy rock.

"Look Down Darkly" highlights the band's softer side. Oozing with an organ that adds plenty of flavor to the song, while 2-and 3-part harmonies provide the perfect background of pillow-y clouds, the song floats while the acoustic guitar swims laps, allowing the number to drip its glorious sounds out of your speakers.

Then there is "Fractured," the band's stomping example of a rocker, a song you can bop your head to and shake those hips with. The rhythm section provides plenty of beats for you to latch on to, with the harmonies and melodies swooping down from above to overtake your senses and rendering you completely silent as absorb it all.

"Crystalized" is another example of their ability to rock. This time the guitars provide a wall of noise. The fuzz fills up the air, setting up a smoke screen for the hooks to reach out and grab you. Equal parts garage rock and blissful pop, The Waxwings magically find the middle ground and do it like its never been done before.

Here is a record the mainstream will completely overlook. Though it still manages to find an audience in the independent scene, causing a stir and selling well. And, really, how could it not? If Shadows of The Waxwings didn't reach an audience, it would be injustice. I'll give it an A.