Sheila Nicholls
Wake (Essex Girl/Hollywood)
By: Alex Steininger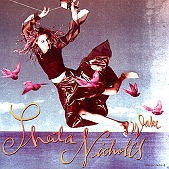 Essex-born (a county in England) Sheila Nicholls left her home for the glitz and glamour of Los Angeles, picking up odd jobs while writing what would become her 1999 debut, Brief Strop. Touring non-stop in support of Brief Strop, Nicholls' was able to hone her songwriting skills, advancing beyond the oft-desolate, angst-ridden sexuality of her debut.

Her sophomore effort, Wake is a mature, beautiful collection of folk-inspired, piano-based pop songs that jump and shake between glorious melodies and shocking confessionals.

Album opener "How Strong" is tailor-made for radio, string arrangements smoothing out the rough edges, while the rhythm section delivers danceable percussion on top of beautiful vocal melodies. The song flows nicely, confident and precise, speaking its mind while singing to whoever is listening. Sheila's lead vocals are driven by the angst that lives inside her, but have enough restraint (courtesy of her backing vocal tracks) to know when it is time to be civil and when it profits to bleed your confessions out on the world.

Nicholls' has one of the strongest, left-of-soul voices out there. It is deep and roots-y, can harmonize, and carry a melody like no other, shifting in range and tone whenever the song calls for it, complimenting Nicholls' equally versatile songwriting style.

Songs like "Ruby" prove just how much of a treasure Nicholls is to the music world. She turns her rage into a danceable storytelling number that starts off with a delicate groove and soon launches into a melodically rich, hook-laden chorus that melts you each time it comes around.

"Love Song", with an acoustic guitar leading the way rather than a piano, strips things down to the bare essentials. Laying down a flawless folk-soul number that shows you the core of all of Nicholls songs: emotive vocals, comforting grooves, well-written lyrics, simple melodies that take on a life of their own, and the ability to wrap life into a four-minute short story.

"Maze" delivers you an orchestrated pop song that still stays true to the basic folk fundamentals that make Nicholls the songwriter she is. But, it also shows the progression and star power Nicholls possesses, as the easy-going, slumbering song takes you away to a mindset of rest and relaxation and makes you feel like Nicholls could deliver a massive hit on the radio that would turn the music world upside down.

Album closer, "Breath" brings the album to a close with a big bang, as Nicholls layers it all into one big number. Pulsating rhythms, stress-building strings, and her gloriously melodic voice, all of which make the song a banner number to close out a real, flawless record of delicacy and emotional perfection. I'll give this an A+.