Miles
Structure vs. Happiness (Feel Records)
By: Alex Steininger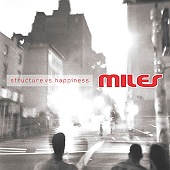 Germany's Miles attacks U.S. soil with Structure Vs. Happiness, their stellar U.S. debut, one that has them poised to receive critical acclaim and plenty of applause from fans of rock, indie, and experimental pop.

Structure Vs. Happiness is a compilation of the strongest tracks found on Miles' first two records The Day I Vanished and Miles, a virtual greatest 'hits' of what the band has done up to this point. As such, you know you're getting the cream of the crop from this exciting German outfit.

There is no filler. The album is stunning from start to finish, fourteen excellent tracks and nearly an hour of non-stop rock that runs the gamut from crunchy power-pop to experimental rock a la Mercury Rev. Though, no comparisons will prepare you for this band, who truly do have their own, unique sound.

Album opener "Pretty Day" bounces along with revved up, distorted guitars and plenty of pounding rhythms, as the band re-invents 60's AM pop with a modern rock assault.

"We Need More Close-Ups" also displays the band's ability to write powerful rock songs with infectious choruses. The guitar-driven verses drag you along before the melodically rich, hook-laden chorus slips right under your feet and rips the ground from underneath you.

Though, the band is no one-trick pony by any stretch of the imagination. They're far too dimensional to allow themselves to be pigeonholed. And as much as I love the powerful guitar-rock melodies they create, songs like "Where Does it All Belong To" and "Astronaut Without A Cause" showcases their ability to structure beautiful, sparkling melodies. Melodies that float in mid-air, simmering instead of rocketing, slumbering around your speaker as you allow the melodies to soak through your body and help you relieve any tension or stress.

Then there are songs like "My Friend Boo," a noisy, guitar-soaked rocker. The band cranks up the amps, strikes their guitars with passion, and hammers out a punchy number that, as much as it serves up the noise and power, still maintains a melodic edge you can't beat.

I was listening to Fig Dish's That's What Love Songs Often Do the other day and I was talking to someone about how in the mid-90's there were a lot of bands who just played the hell out of their guitars. Bashing out solid rock music that was born and raised on punk, yet was magically soaked with a sense of Kinks and Beatles melodies, and how there were not many bands like this now days. They all broke up and formed whiny emo bands, went back to school, or stayed on the modern rock bus and glossed up their sound to make a living playing music.

It disappointed me. Until I heard Miles, who manages to do what they did in the mid-90's, cranking out loveable rock songs that are as noisy and loud as can be, but so melodic and sugary you can't help but sing along. Songs that make you want to jump up and down, play air guitar in your room, and learn every darn word to every song. You know the same feeling you got when you were listening to the Beach Boys, The Beatles, Buddy Holly, and The Replacements while you were growing up.

Suffice to say I absolutely love this record. And though it is not all bash 'n' pop - they're able to experiment and play equally affecting slow songs - Miles are hands down one of the new breed of rock bands that are going to inspire. They're bound to ignite a fire under some kid's ass and make him/her want to start a band that is going to explode and save popular music. I'll give this an A+.