The Kaisers
Shake Me! (Get Hip, Inc.)
By: Alex Steininger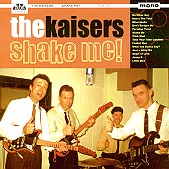 The Kaisers' Shake Me! is an intriguing story. For one, a Wilhelm Wimbledon wrote mysteriously comical liner notes about how The Kaisers are the biggest rock band in the world, ripping off the sound of "Elvis and Cliff". And either I'm way out of it, or The Kaisers fabricated a cute little story to fuck with people.

Suffice to say, I don't know what to believe. Are they really a Scottish quartet? Was this record really recorded in London? Or are they a bunch of goofballs who write catchy, danceable 50's/60's boppy rock songs that make you want to move and groove and forget your problems for a second or two while you mingle with people on the dance floor at the sock hop?

Whatever the case may be, Shake Me! is an adorable, non-stop listening pleasure that will have you tapping your toes, moving your head, and eventually singing along to the irresistible sounds of the classic, timeless late 50's pop perfection The Kaisers create. I'll give this an A.