1 Giant Leap
1 Giant Leap (Palm Pictures)
By: Alex Steininger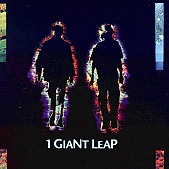 1 Giant Leap is a collaborative DVD/CD/Cinema project, one that places music, words, and images together from artists of all forms - musicians, authors, philosophers, and free thinkers - from over twenty locations around the globe. It is the brainchild of musicians/filmmakers Jamie Catto and Duncan Bridgeman. The result is a world-traveled, eclectic sampling of various sounds and styles from the world over.

With everyone from Robbie Williams, Michael Stipe, Grant Lee Phillips and Horace Andy to Baaba Mall, Maxi Jazz, and Asha Bhosle contributing to each song, the twelve-tracks, and over seventy minutes of music, will take you on a spell binding cultural experience. Track after track, from subliminal pop to African dance, Arabic Theater to gospel, and everything in between, 1 Giant Leap has the outlook to change minds and expand your horizon.

This is a worldwide collective masterpiece, one that sounds good on its own, track to track, but shines when listened to in its entirety. I'll give it an A.