The Paybacks
Knock Loud (Get Hip, Inc.)
By: Alex Steininger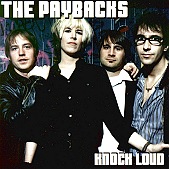 The Paybacks' Knock Loud is a wicked assault of fierce female vocals, crashing rhythms, and burning guitars aching to rip through three-chord rock 'n' roll like that was what they were invented to do.

Showing signs of focusing on a melody at times, The Paybacks switch off between bashing out roaring rock and screeching, slight-hook-oriented loose street pop. But, no matter what they touch, they kick its ass, and kick out the jams loud and proud. I'll give this a B.