Colin's Sleazy Friends: Raw and Extreme
Cooking With Porn Stars (Cult DVD/MVD)
By: Randy Harward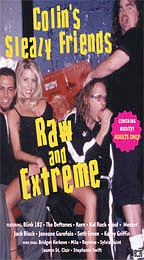 If you don't live in SoCal (or so I'm told), you don't know Colin Malone and his show Colin's Sleazy Friends. The man is a hero to all men, as he dares to approach, interview and proposition porn stars. He asks the questions that are on all our minds ("Can I lick your ass?" he asks Houston as she prepares Jell-O shots in her kitchen in Cooking With Porn Stars) and gets further with these lusty ladies than most of us ever will. The Colin's Sleazy Friends DVD is a best-of collection, featuring ultra-candid interviews with an array of porn queens (even visits to sets!) some actors (Breckin Meyer, Seth Green, David Cross and Bob Odenkirk, Corey Feldman, Janeane Garofalo, Kathy Griffin--Margaret Cho extols the virtues of butt sex!) and bands (blink 182, Danzig, Weezer, KoRn, Deftones...one of the wildest segments ever--no details--must be seen to be believed!).

Cooking With Porn Stars is a collection of segments where Colin spoofs cooking shows by visiting porn stars in their homes for anything from brownies (courtesy Teri Weigel, who allows Colin to lick brownies batter from her boobs) to the aforementioned Jell-O shots to a full meal, courtesy of Raylene, who cooks beef tips while her roommate Chandler shows off her strap-ons (and they all drink and toke themselves stupid!).

Special features: CWP contains an episode of CSF, as well as additional footage. CSF contains hilarious commentary from Colin, Raylene and Chandler, a photo gallery, an full episode of CSF, Colin's Free Speech Party and Colin's Wild Strip Club party, special website access to Colin's membership site. CWP: A CSF: A.