Mull Historical Society
Loss (Beggars Banquet)
By: Alex Steininger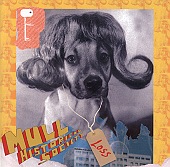 Loss is a charming pop album with charisma and hooks, sounding big on the rock songs and lo-fi on the soft numbers, while maintaining a consistent level of lo-fi-ness throughout. The songs aren't slick; they don't feel like they were really produced much at all. It sounds as if the band rehearsed the songs at practice, got them the way they wanted them, and then took them to the studio, nailing them on the first or second take (maybe the third on a few songs), did a little overdubs, and then called it a record.

"This is Not Who We Were" is a jangly piece that will have you bouncing up and down and bopping your head, while "Barcode Bypass" finds you sitting down to absorb it all, as the slower song just floats along, reeling you in with its light, airy feel. And then there is "Animal Cannabus," a song that has the band turning up the guitars and cranking out a near power-pop number.

A solid CD from start to finish, Loss is a pop album unlike most, capable of slower pieces that are equally as good as the jangly ones, which compliment the amped up rockers nicely. I'll give this an A-.