SHOW REVIEW: Daniel Ash
Live @ The Aladdin (Portland, Oregon)
By: Kurt Dahlkie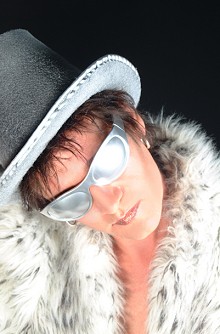 Daniel Ash is a man who knows the value of the electric-guitar-as-bludgeon, and fuck it. I'll be hanged if it doesn't work.

Expecting little from someone I loved back then, I got the inside of my skull scraped out by a full on British rock show, performed for a bunch of sexy Portland goth-chiks. Hot Damn!

Portland, Oregon disco-dance royalty Dahlia warm the crowd with a set of balls-out, puddle-town electronica. Dahlia take the modern approach, Keith Schreiner bobs back and forth between a cascade of electronic keyboards, sequencers, and sundry, laying out counter-intuitive grooves which work like a tightly held leash rhythmically jerking at your neck. Meanwhile emotive, fiery Jennifer Volker stamps an earnest Portland-emo vibe on the top; part Tanya Donelly, part Aretha Franklin, taking things from 'smoove grooves to move to' towards an electrifying experience.

My buddy and I toss beers on top of margaritas and sundry waiting for Ash to hit the stage. As geek-stalkers following the career of the man for at least fifteen years, we marvel at Ash's 20 + years in rock, and we're thinking (or slurring); "what's this? Out-of-date-geezer chasing the club kids?"

Not too many club kids here, but fuck it. Best recognize, Ash is fired up with some young mother-fuckers and laying down some hard core rock and roll that says "guitar is king!" The mirrored guitar and bass pair shoot rays from the spotlight through people's retinas as the out-of-control train that is the drumming shakes the street.

I'm serious, even though the show weighs heavily on Ash's past, rather than his disturbing new album which I'm still trying to figure out, the show fucking rocks like a pile-driver, bringing heavy to fey, psychedelic Love And Rockets anthems as well as pseudo-funk Tones On Tail workouts. You can't underestimate the importance of the young and hungry rockers John De Salvo and Mike Peeples, both from 16, volt backing Ash on bass and drums. They imprint on Ash's older tunes a raw intensity which finesse-players David J and Kevin Haskins could never match. More stuff from the latest self-titled CD would be nice, but the brutal intensity with which they play these songs makes up for it.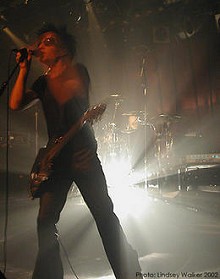 Due to a violent car accident, Ash's regular bassist Patina Creme is in the hospital recovering, so it's kind of weird watching the elder goth-statesmen rocking out with these temporary young side-men. The De Salvo's flailing, dreadlocked presence is particularly incongruous. Still, Ash as a guitar-drunk Freeek! era George Michael, cruising through his large catalog for only the best songs is quite appealing. Ash's shogun-style wide bell-bottom-and-boots look matches well his perennially sleazy presence.
"Don't touch it, it's concentrated evil!"
If the hammering rhythms, psychedelic lights, and ripsaw guitar aren't enough, check this out. First, the rock and roll mother-fucker sends the mic out into the crowd, so people can sing along to Tones On Tail hit Go!, then he invites the fuckers up on stage to dance and sing with him, still holding it together in the ensuing maelstrom.
That's fucking rock, and I hope he gets another 20-plus years to do it.