Cavegirl (R) / The Hearse (R) / Lena's Holiday (PG-13) / The Crater Lake Monster (R)
Rhino DVD (Rhinoi)
By: Randy Harward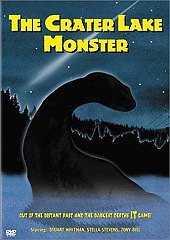 What is often misunderstood about B-flicks is that they are simply stupid, and therein lies the charm. Fuck that noise. There are good B-flicks and bad B-clicks. Cavegirl, for instance, sucks. Bare breasts and gross-out jokes do require some finesse in their execution, and Cavegirl has about as much finesse as Alanis Morrissette displays when she manhandles a guitar. Star Daniel Roebuck should have quit after Dudes (a fine film, by the way). D

The Crater Lake Monster gets points for a monster that actually looks cheaper than the flying saucers in Plan 9 From Outer Space and Godzilla et all in any of those flicks. We'll give it the B it was striving for. Pick it up. Lena's Holiday is a hit-and-miss comedy thriller about a woman who leaves East Germany at the crumbling of the Wall and finds herself on the run from jewel thieves. Good, but better if the jewel thieves had chainsaws and were after the family jewels. Now that's a scary movie! C+

The Hearse? To be quite honest with you, I passed out. Don't remember it at all, so we'll spit in the wind and if it hits us in the face, it gets an A. (((((HAAAAAAAAWK!))))) PTOOIE! D fuckin' minus.