Ben Kweller
Sha Sha (ATO/BMG)
By: Alex Steininger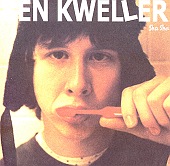 Ben Kweller's Nirvana-esque rock band, Radish, was signed to a major label deal when he was only fifteen. Touted as the next Kurt Cobain, Ben Kweller and Radish seemed to always be on the verge of commercial breakthrough, scoring a top 40 hit in the UK, and touring the world several times over. But, the industry eventually ran its course on the three young musicians, ending in the band calling it quits in 1999.

Immediately after the band broke up, Kweller moved to New York and started playing solo shows. Opening for the likes of Evan Dando, Juliana Hatfield, and others, Kweller quickly established himself as a promising solo artist, self-releasing some demos before signing a deal with ATO/BMG and releasing a five-song E.P. entitled E.P. Phone Home.

His debut full-length solo album, Sha Sha, picks up where Radish left off, combined with where Kweller's demos have been leading him, blending folk-pop with power-pop and the occasional rock song.

"How It Should Be (sha sha)" is a bouncy piano jangle that finds Kweller's lyrics jumping around in your head as you sing along while the light tap of the rhythm section has you swimming in the happy-go-lucky melody.

"Wasted & Ready" is hook-laden power-pop complete with fuzzy guitars and the occasional Kweller yell as he proclaims "I am wasted, but I'm ready". Crunchy guitars crash against the dynamic rhythm section as Kweller's voice delivers a relaxed-to-abrasive vocal hook that will have you swooning over him.

"Family Tree" shows Kweller's acoustic singer-songwriter side, equal parts laid back pop and upbeat melodies. Think a younger, more naive love struck Elliott Smith with some friends and instruments, playing a poppy, infectious number that gently flows all the while reeling you in with every warm, sunny note.

"Commerce, TX" brings in the crunchy, buzzing power-pop chalk full of hooks and punchy rhythms that find you getting up off your ass, jumping around, and having the time of your life.

The piano and drum interplay intro of "Make It Up" soon turns into the guitar, piano, and drum interplay, lead by a soft singing Kweller, delivering a slow, but still bouncy piece that finds shiny hooks behind cloudy, darker melodies. Kweller turns around and does a 180, darkening the jangly pop he is so good at, coming out on top, and proving he can write darker songs as well.

Ben Kweller is a true talent, one of the brightest, most promising singer-songwriters on the pop landscape today. With a melody in his head and a guitar (or piano) near by, he writes some of the warmest, most hook-laden songs you're likely to hear. He knows how to get something stuck in your head and make you happy. I'll give this an A+.