Richard Hell
Time (Matador Records)
By: Alex Steininger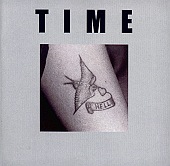 Heartbreakers and Voidoids front man Richard Hell has left an irreplaceable, unforgettable stamp on the face of punk music. Making his mark and guiding punk in a direction that would influence countless artists and bands for decades, an influence that is now stronger than ever, which is showcased on the two-disc career retrospective, Time.

Disc one is entitled R.I.P., taking its name from the ROIR release of the same name. Adding three new songs - the previously unreleased "Chinese Rocks", "Funhunt", and "Time" - disc one offers up a Richard Hell at his best, wild, loose, and completely insane, living for the rock, and rocking to live.

Including material spanning The Heartbreakers, Voidoids, and his solo band, disc one gives you nine-year glimpse into the music of Richard Hell. The Heartbreakers' "Love Comes In Spurts" starts the album off right, melody and hooky, with the jagged guitar and hip-shaking rhythm section creating a danceable rock anthem.

The Voidoids' "I'm Your Man" struts Hell's vocals soul, as he delivers a swaggering, rich rock-soul piece that will go straight to your heart.

The Voidoids' "Time" finds Richard Hell taking jangly pop and running it through a fierce rock grinder, as he beefs up the timid pop and gives it a face lift.

It is The Voidoids live in 1983 at the 688 Club in Atlanta, Georgia where Hell gets quirky and crazy on the wild "I Can Only Give You Everything", a solid, tight, punchy rocker that finds Hell's rock slur at the top of its game.

1985's live recording of Hell In New Orleans finds Hell turning jazz into an eerie, hauntingly beautiful style on the creepy, yet relaxing "Cruel Way To Go Down".

Disc two finds Richard Hell live, both times with The Voidoids. The first two songs come from a 1977 show in London at the Music Machine, while the remaining four songs were recorded at Hell's home club, CBGB's in 1978.

Hell & The Voidoids do rock 'n' roll classics as good if not better than the creators of the song, including a shattering rendition of Iggy Pop's "I Wanna Be Your Dog", The Stones' "Shattered", and The Stones' "Ventilator Blues".

Disc one, which includes some live tracks, is a great representation of Hell. However, to full experience this package, you must submerge yourself in disc two, Live, and hear how chaotic and truly rock Hell was, ripping, tearing, and thrashing through rock 'n' roll mayhem without blinking. I'll give this 2-disc set an A+.