The Kickovers
Osaka (Fenway Recordings)
By: Alex Steininger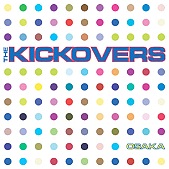 Ex-Mighty Mighty Bosstones guitarist Nate Albert and ex-Weezer bassist Mikey Welsh got together and formed The Kickovers, a high-octane pop-punk band that knows how to write intense, powerful punk songs soaked in melody. They also know a good hook when they write one, and their debut full-length, Osaka, has all the components of a hard-hitting rock album that you won't soon forget.

The melodically-fierce "Black and Blue" is hook-laden and hard not to sing along with, while "Fake In Love" has you bouncing off walls with its sugary sweet power-pop format.

The punk is in full force on the searing "Heart Attack", rock collides with pop on "Hanging on the Telephone," and hooky power-rock knocks you on your ass when "Wake Up" rolls around.

Osaka starts off fierce and with its unrelenting nature ready and willing, they rock harder and harder with each song, all the while making sure to give you some head boppin' pop to suck on. I'll give this an A-.