The Melvins + Fantomas
Millennium Monsterwork (Ipecac Recordings)
By: Alex Steininger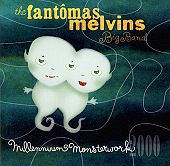 The Melvins and Fantomas got together to form "The Fantomas Melvins Big Band", a seven-piece, two drums, two-bass, two-guitar band fronted by vocalist Mike Patton. The outcome is "Millennium Monsterwork", a gigantic hard rock album recorded live on December 31, 2000 at Slim's in San Francisco.

Throaty vocals collide with the loud, combustible rock, complete with sledge bass and thunderous drums. This is bloody, unpredictable music in its rawest state - live - pumped up and unleashed to an unsuspecting crowd. The rock walks a fine line as the death metal and electronic-experimental sides meet, giving the music an eerie, refreshing sound that is both hard rock and nothing you've heard before. I'll give it an A-.