Comedy's Dirtiest Dozen
DVD (Eclectic DVD/Cult DVD)
By: Randy Harward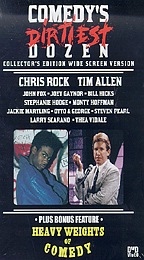 This late-eighties feature film is a fantastic filth-fest, featuring such comics as Tim Allen, Jackie "The Joke Man" Martling, Stephanie Hodge, Bill Hicks, and Chris Rock doing their most offensive bits, most of them sexually oriented, but others deviate from this. Allen's focuses on farts, belches and menstrual cycles; Rock's is racially themed; others are just downright rude (God bless 'em!).

Extra: another 90-minutes feature, Heavyweights of Comedy (figure it out).