Songs for Cassavetes
An All-Ages Film (Better Looking Records)
By: Alex Steininger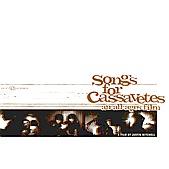 Songs for Cassavetes, an all-ages film by Justin Mitchell, is a who's who of the indie rock world, features top indie stars The Makers, Sleater-Kinney, Unwound, The Peeches, Bratmobile, and Dub Narcotic Sound System, to name a few.

The highest points include Calvin Johnson's opening speech on the underground vs. popular music during the Reagan era. Brent from Further's reason for signing with an "alcoholic who has a dream of starting an indie label" over a major label. Unwound's "Arboretum", a slow, but heavy indie rock head wound. And Chisel's "Spectacles," a winding, melody-rich, bare bones rock song with a hardcore edge.

If you've seen the film, the soundtrack will surely be a treat. If you haven't seen the film, the soundtrack will act as a constant reminder you should. I'll give this a B+.