Playgroup
Playgroup (Source)
By: Cam Lindsay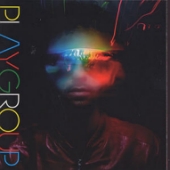 While many were torn between the latest Daft Punk album, Playgroup's self-titled effort seemed lost in the shuffle and went completely unnoticed in 2001. Led by the busy Trevor Jackson (aka The Underdog), the sought after remixer for acts like U2 and Massive Attack, Playgroup is a collaborative featuring a number of well-known musicians like Edwyn Collins (Orange Juice), Kathleen Hanna (Le Tigre) and Kyra (The Headcoatees).

Made with the intention of sounding like a dance mix, Playgroup bounces around from one interesting style to another (b-boy, R&B, reggae, house, funk), keeping its flux of energy throughout. The cleverly titled first single, "Number One", is a hot slab of fried funk disco, whereas "Bring It On" and "Make It Happen" take an aggressive electro stance. On the flip side, "Surface To Air" is reminiscent of the dub experiment Primal Scream tried with their Echo Dek album, and the cover of Paul Simon's "50 Ways To Leave Your Lover", featuring Shinehead, is Jackson's own slanted take on reggae.

The only disappointment with Jackson's Playgroup is the removal of the Peaches/Gonzales collaboration, that was originally supposed to end the record. But after a few listens of the record you'll soon forget all about it.