The New Amsterdams
Para Toda Vida (Vagrant/Heroes & Villains)
By: Alex Steininger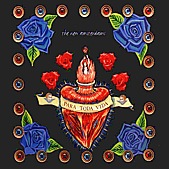 Led by the Get Up Kids' Matthew Pryor, The New Amsterdams offer up another dimension of Pryor's songwriting, leaving behind the emo and focusing on warm, acoustic pop songs straight from the heart.

Pryor tones down and steps up to the plate, allowing his songs room to breath and roam, focusing on the hook and the lyrics, over The Get Up Kids' rock and emotional pull. "My Old Man Had A Pistol" starts with a harmonica, developing the melody, and bleeding into the acoustic guitar which carries the song, flushed out by strings and piano.

"Son of a Prophet" delivers a soft, modest acoustic song, with strings blowing in the background, as Pryor delivers an accessible singer-songwriter piece that will have you melting inside as his voice and words resonate inside you.

"Four More Years" goes a bit hillbilly on you, adding a banjo to Pryor's slightly twangy guitar. Vocal harmonies soar, giving the song a tender pop face, but the country vibe is alive and well.

A strong, folk-ish at times pop record from the man known as one of the hottest emo songwriters in the game today, Pryor and the New Amsterdams know their way around a pop song, crafting bold, beautiful pieces that will stay with you for some time. I'll give this an A-.