The Birdwatcher
Afternoon Tales From The Morning Never Knew (Arena Rock Recording Co.)
By: Alex Steininger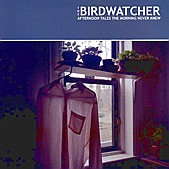 Light, breezy pop songs with an airy, just-passing-through vibe to them, The Birdwatcher's Afternoon Tales From The Morning Never Knew doesn't even need to try to make you like it. It simply floats out of your stereo, slowly, and then there is nothing you can do. Its soft, easy-going nature blended with its heartening, natural-ness is all you need.

You'll sit there motionless, listening as the songs gently play on your stereo, feeling as if they could disappear at any time, so you listen very carefully, picking up everything you can. From the slight jangle of "The Hush," with its bouncy, almost uplifting (if it weren't so hauntingly beautiful) melody. Through the weightless acoustic-ness of "Drawn" that builds and builds into a spacey array of sounds, you can't help but want to breath and feed off of the well-crafted Afternoon Tales From The Morning Never Knew.

As enchanting as it is mystical, this album will quickly rise to the top of your choice picks, earning heavy rotation as you listen to it non-stop, each time picking up something new, something else you love about the record. I'll give it an A+.