Alien Crime Syndicate
XL From Coast To Coast (The Control Group)
By: Alex Steininger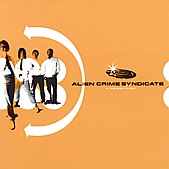 Seattle's Alien Crime Syndicate are back with another album chalk full of blistering power-pop nuggets, oozing with modern rock appeal, but always twisted with front man Joe Reineke's tongue-in-cheek, smile-winning style.

Starting off with a sure-fire radio hit, "Ozzy" hooks you with a dynamite chorus ("please just lift up your hands if you like Ozzy or the Motley Crue/ I know you should understand if you like Ozzy"). An onslaught of guitars slam into you before making you jump up and down with a sugary-sweet flavor that melts with you the moment you hear it. Throw in a space-pop undertone and you have Alien Crime Syndicate, a pop band that doesn't know how to disappoint.

"Break The Record," a staple of the band's live show, follows "Ozzy" with a bang. Quirky pop with a bold rock backing, this is what you wish radio played, a sleek, bouncy song that has enough repetition to get stuck in your head instantly, has impeccable production with no flaws to be found, is fun, and something you're not embarrassed to like. Quick, clocking in at a little over two minutes, the punchy pop flows like water, easily accessible, and highly memorable.

"Stronger" shows the band writing slower, heavier songs, covering up the pop with guitars. The song possesses the same blast of energy, the same power, but its slower, leading you to believe everything around you is moving slower as well. Then they jump into the chorus, delivering the pop that you crave, instantly hooking you, and bringing your mind back up to speed.

The jangle-y "Figure It Out" finds the band stepping away from the crunchy, modern rock that dominates the album, going straight for your emotions. Delivering a bouncy, ultra-poppy song that reels you in while a soft piano faintly chimes in the mix, adding even more of a sugar coat to the song, ACS' fire seems to never burn out or even dim. Throwing in a space pop bridge, the band proves they can write sweet, delicate pop propelled by their rock-ness, or they can just go all out and rock you like no other.

"Ya Blink It's" hints at the punk upbringing of Reineke and the band (something Reineke has incorporated in his previous band, The Meices, as well as ACS's "Dust to Dirt" album). Though, this is not pop-punk by any means, as Reineke spikes it with some space-pop and saves the day with a memorable chorus you won't soon forget, leading you in with distant guitar picking and launching into some ripping power-pop chords.

"Is It U" slows things down tremendously, as ACS delivers a twilight nightcap of simmering pop as only they can. Closing out with "We Are," ACS gets a bit experimental, offering up a percussive, rhythm section heavy rocker with ample guitars to keep the rocker in you happy.

Alien Crime Syndicate is all about having fun, as they've proven on past albums, and their live shows. They also have depth, with Reineke writing universal songs about themes and characters we all can relate to. They're the perfect marriage of fun-time pop and meaningful lyricism that will have you clawing for more. Another excellent release from this astonishing quartet; I'll give it an A+.