SHOW REVIEW: The Bolscheviks / Hoary Poury / Invisiblink
December 12, 2001 - Ash Street Saloon, Portland, Oregon
By: Jett Black



A bit of change in the lineup.

Kaitlin Ni Donovan (in the original line-up), feeling ill, stays home to focus on recovery and good health.

Invisiblink moves into the last slot of a 3-band presentation this Wednesday evening.

Erik Beyer (Beyer Sound Prod.) is doing the sound for Ash Street tonight. I can't say that this seems to help much. While I love the new look at the Ash Street Saloon, the sound equipment and perhaps the acoustics continue to be considerably "off-center" with frequent feedback, distortion, and at times nearly inaudible vocals.

It's almost 9 pm and from what I understand, the first band has yet to arrive.

The Music Industry standard seems to be the traditional "Hurry up and wait".


THE BOLSCHEVIKS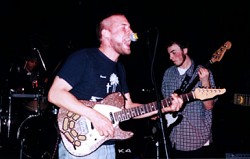 A 4-piece band in coats of various lengths and styles, some with warm headcoverings. almost seems somewhat MOD, but not. Somehow, the manner of apparel seems all too appropriate for the abundant lack of warmth as the performance room of Ash Street Street Saloon is positively frigid this evening.
THE BOLSCHEVIKS band leader --> Luke - percussions
Percussions - unlike so many other examples that come to mind, the Bolscheviks drum kit does not eclipse the percussionist. Luke strikes me very strongly as a Phil Collins fan.
THE BOLSCHEVIKS are a happy, jumping, strumming along group who play into one another rather than out toward the audience.
With Luke leading the vocals, THE BOLSCHEVIKS take a more blues-pop-rock jaunt in the middle of their set, much more so than the two previous songs which seem more indie pop-rock.
Next, a Steppenwolf cover song - Suki-Sue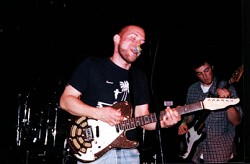 Followed closely by a Tom Jones Cover - She's a Lady - Luke rushes through the lyrics too quickly here. I'm not sure why. Maybe he's nervous.
Soul-count 20+ in the performance room - and anther dozen bleeding in and out of the adjoining lounge.
Singing off-key doesn't really bother me. Still, I can't help but notice when my girlfriend points it out, and next 4 people from as many different tables rise to leave wearing upon their faces an unmistakeable sense of dread. Perhaps I'm just more tolerant of experimental composition.
Of the 3 Bolschevik vocalists - Luke exhuberates the most gusto, and I might go so far as to say "confidence" - if only the lines were delivered with more patience - the original compositions which are covered here tonight were delivered with more breadth to allow the meaning to grow within each word. Let it sink in as it spills out into the audience.
Up next...

HOARY POURY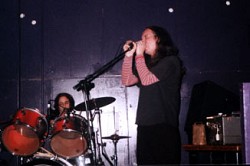 Most memorable! In addition to swooning sweeps through several vocal octave ranges, Justin Fey (vocals) is also seen tweeking dials and modulating frequencies on what appears to be an antique short-wave radio. The resulting effect provides for the high pitched, oscillating frequencies which lay a bed of noise beneath the vocals and rhthym accompaniment.
Hoary Poury presents less modesty with a larger drum kit and dark wavy hair on their female percussionist.
The 6-string guitar sounds much more like a bass guitar - deep and heavy.
Percussions here provide more background influence - nothing overpowering. Strings and vocals provide the majority of this presentation.
The sounds from the shortwave radio kick in subtle noise - almost unnoticeable squeals - and persistent humming tones.
The shortwave radio sounds become more audible between songs to reveal voices, a conversation or oratory perhaps, and then Justin reaches forth, tweeking dials perhaps - and the high pitched tones shift in frequency. Oscillating as the vocals move next from falsetto to deep, almost hoarse shifts in mood. Somehow, this reminds me a bit of Kevyn Hay of the locals Written in Ashes, dark and creepy, a little spontaneous, and experimental.
Lights provided by Portland's finest bathing the performance hall with an eerie, colorful strobe effect. Of course, while welcome ambiance, much of the audience turns to wonder "what the hell is going on outside? Is my car getting towed?"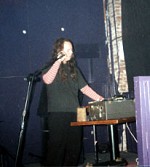 Hoary Poury plays on and these lights seem perfectly woven into the music, making lemonade of the lemons.
Live performances are so very special for how they manage to incorporate and harmonise with atmospheric conditions, such as when a a heavy rainstorm contributes to the intensity a loud guitar rock performance. All the more reason to get out of the house and under the cover of Live music venues with beer on tap.
Ash Street provides a kitchen next to the bar with a great menu. Bring a few friends and split the cost of a basket of cheese fries. "Sorry. No pitchers of beer!" Beer is sold here, though only by the glass.
Sonya, by my side, tells me that Hoary Poury reminds her of a more minimalistic version of Big Daddy Meat Straw; scary clowns, and The Doors' - dark vocals upon circus scenery.
Later, I find her comments significant and ironic as I gaze upon album cover art featuring two very miserable, yet lovely clowns. The cd is entitled "Wonderful Burden" by Hoary Poury. The cd cover artwork, like the tweeking of the short-wave radio, is designed by Justin Fey the vocalist for Hoary Poury.
"Horrid" (one of the songs)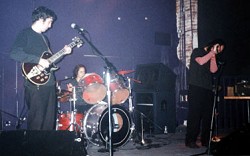 The music and lyrics definitely fill most any definition of the gothic genre - inward and depressing outlooks on love and happiness - one man's pessimism is another person's reality, I say.
And the crowd tonight shows appreciative applause, photo flashes, and devoted attentiveness in shrill whistles and hollers of gratitude. Such enthusiasm paints a very nice and warm glow to this absolutely freezing music venue.
Now, rounding out the evening...

INVISIBLINK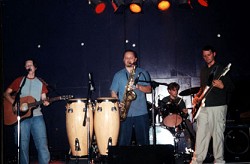 Set up includes:
Korg keyboards
Giant bongo drums
Ludwig drumkit
Acoustic & electric guitars.
Appearing front and center stage tonight - the saxaphone player who's also contributing additional percussions on enormous bongos & shaker instruments. He next whips out a saxaphone for the second song.
Haidee Jack (vocals) strums fast and furious with eye catching change-ups.
INVISIBLINK remains one of my favourite picks for the most interesting new music to hit Portland in 2001!
I hope to catch each of these bands again soon in 2002!