INTERVIEW: Storm Inc.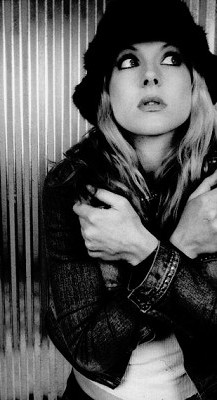 San Francisco Rocker Girl, Storm Talks About Rock! (Storm Inc.)
By: Alex Steininger



San Francisco's six foot blond rocking machine, Storm is ready to rip the world apart with her raw, relentless rock album she is conceiving in her head. Ready to get rid of the pretty girl pop image people have tried to mold her into, she recently re-located to Portland, Oregon and plans on writing and recording a pure, growling rock record sure to make you squirm.

We recently got together at a bar in Portland and talked about her major label attempts, her previous bands, and her plans to sit back and just rock.

"I haven't done anything but singing and writing songs since Halloween of 2000," Storm says of her musical career. "I sing for other people. I can imitate sounds really well. I also can sing in different ascents. I've been singing back-up for people and get decent money for doing gigs in San Francisco."

Storm's latest band is Storm Inc. We talk about this for a bit before we get into the heart of our music conversation.

"The band name is a joke," she says with a smile. "We were having business meeting after business meeting and one day I said, 'fuck, let's call it Storm Inc.' It's like a company that creates chaos.

"But, apparently there is a band called Storm Inc. out there, a hip-hop act. It doesn't matter to me, because we're not on a major label and no major label has come sniffing up my skirt for that record. I can call this band whatever the fuck I want. I was in Storm and Her Dirty Mouth and that was a band. There was no other band with that name, but Storm Inc., which is a really common thing to call something...

"Since it is my given birth name I think there is a glitch in the law that says I can use it. It's my birth name and I can do whatever the fuck I want with it. If we went to a major I'm sure I'd have to call it something else, though."

She quickly adds, "San Francisco was being taken over by dot coms so we thought the name was appropriate."

I ask Storm about her previous band, Storm and Her Dirty Mouth, and that is when she starts to tell me all about how everyone has tried to mold her into the perfect pop princess, even though her heart just wants to rock.

"Storm and Her Dirty Mouth was a really sensible pop band. I formed that band and did what everyone wanted me to do, which was release a nice pop record and try to get signed to a label.

"We then got signed to a minor label, Pop Mafia. It was a stupid idea. They had no advertising budget and no tour support. They only had two releases, one of them being our EP, which wasn't me. It was so low-key and so nice.

"I tried to write some punk rock songs for the band and there were two members who were complete jazz heads and they thought it was a backwards step for the band. I was like, 'Who's band? Oh, are you taking about my band?'

"A lot of people called me, including Art Alexakis [of Everclear], and said, 'I really like your voice, but I want to hear you fucking rock.' I told them all that I did too and I missed it, so that band ended. Then Michael, Ubi, and I went and started Storm Inc. and wrote a bunch of rock songs."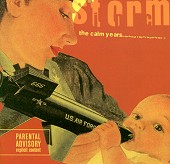 The result of Storm Inc. is The Calm Years, a slick, produced pop-fueled rock record.
"The Calm Years is a collection of a bunch of songs, some of which we had released before, and some we had written recently. The only cohesive line is the players, which is OK, but I like a little more cohesiveness in terms of tempo. Some of the songs are mellow. I've got a short attention span. I don't like some of the songs on the album. I only put them on there because we had them. It's a great record for an indie release, for the amount of time and money we put into it. It's a great record. The songs just get better each time we play them live. I wouldn't mind doing a Calm Years live CD, because the live set is night and day between what you hear on the album and what you hear when you come see the band.
"The record still has a lot of pop in it, which is from the producer, who wanted to carve a few hit pop songs," Storm says with a little disappointment. "Everyone should want to record a few hit pop songs, because that is where the money is. But I still want to record a rock record."
Storm pauses and then elaborates, " The Calm Years is a rock record, but I want to record ten songs that are really toothy, and that is what I'm going to do now that I'm living in Portland, record a saber-tooth rock record. I'm an old school punk rocker from Boston, sitting on the street spare changing, ripping hood ornaments off of cars, running, and being a little shit head. And I think when you're a shit head in your teenage years that forms all your tastes, and that is like The Ramones, The Sex Pistols, and Blonde."
A few labels, including Art Alexakis' Popularity Recordings, have talked to Storm about signing, but all seem to come to the same conclusion. "They don't like my band," Storm says. "My band is very talented, but for one reason or another, labels just didn't like this member or that member, so nothing ever happened."
Now that Storm is in Portland, Oregon, Storm Inc. is on a hiatus as she writes and records her next record, the rock record she has had brewing in her mind for the past few years.
"Michael, Ubi, and I have been playing together for seven plus years. Michael and Ubi are playing with other people and I'm going to be playing with other people. We're both going to try other people out. My band members are great, but the last thing I want is to play in a band. I'm just going to write and record music for awhile."