DVD REVIEW: Tale of the Fox
The Eric Carr Story (Music Video Distributors)
By: Randy Harward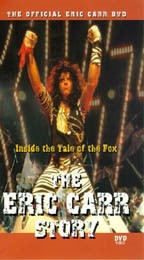 When Eric Carr replaced Peter Criss in the KISS drumseat, it was sad, if not wrong. Still, Carr (born Paul Caravello) proved to be more than a scab; he was a much better drummer than Criss and his affability and accessibility endeared him to fans. Tale of The Fox is the story of Carr's life, from when he received his first drum kit to how he came to land the job and eventually succumbed to cancer. It's poignant and enlightening (in what is said and unsaid no KISS music is used and no KISS member, aside from guitarist #4, Bruce Kulick, granted an interview).

Extras are a moot point, as Carr's story needs no dressing up. Still, included are four very old songs written and performed by Carr before KISS and a biography that is rather redundant.