DVD REVIEW
Maniac (Anchor Bay Entertainment)
By: Randy Harward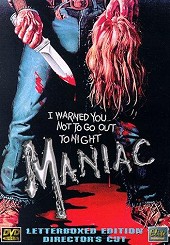 Unless you're a connoisseur or in the company of an attractive, easily frightened woman slasher films can be formulaic, "if-you've-seen-one-you've-seen-'em all" wastes of time and money. If you've ever seen William Lustig's Maniac on the shelf of your local video store, you may have ignored it for just that reason. However, if you've happened to take it home, you know it's one of the most disturbing horror films ever made. And in some circles those comprised of the aforementioned sicko aficionados it's considered a masterpiece. Joe Spinell (The Godfather, Nighthawks) stars as Frank Zito, a man whose issues cause him to brutally murder women, then place their scalps on mannequins, which he keeps in his modest New York apartment for company.

Anchor Bay Entertainment has finally released the film on DVD, with a host of extras including commentary by Lustig, Tom Savini (who provided effects and plays a victim), editor Lorenzo Martinelli, and Spinell's assistant Luke Walter as well as a documentary about the late Spinell, a radio interview with Lustig, Spinell and co-star Caroline Munro, the theatrical trailer, TV and radio spots, a poster and stills gallery, talent bios, and Spanish subtitles.

Maniac is rated R for violence and nudity and is presented in widescreen (aspect ratio 1:85:1) suitable for 16x9 televisions.

A numbered limited-edition tin is also available (hurry, there were only 5,000 made), featuring a soundtrack CD cut in the shape of Frank Zito's disgusting mug.