They Might Be Giants
Holidayland (Restless Records)
By: Alex Steininger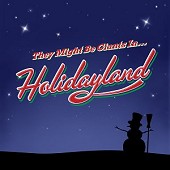 They Might Be Giants do the holidays right, offering up four previously released holiday songs with a cover of The Sonics garage rock classic "Santa Claus," heard here for the first time. A quirky rocker with a hip-shaking groove to it, They Might Be Giants give The Sonics' song new life.

"Santa's Beard", originally appearing on They Might Be Giant's Lincoln album, is a holiday-gone-bad tale of a girlfriend who cheats on you with Santa. "I wish he would go, he's breaking up my home. I saw my baby wearing Santa's beard" echoes in the chorus, with a jangly, rock beat behind it and a warm, vibrant organ, faintly humming in the background, flushing out the song.

"Feast of Lights," originally appearing on a Hanukah compilation called Festival of Light 2, is a sullen, mellow pop ditty, bouncy like a jingle, but still dark and slow enough to really pull at your emotions. "Careless Santa", from Mono Puff's debut album (John Flansburgh's side project), is jangly and fun, while "O Tannenbaum" (from a 7" vinyl single recorded at sound check with the band's first live line-up at Fairfax High School in Hollywood) is a lo-fi holiday classic.

You can't go wrong with a They Might Be Giants holiday album. You really can't. I'll give this an A.