Sarah Dougher
The Bluff (Mr. Lady)
By: Alex Steininger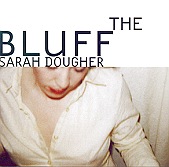 Sarah Dougher's The Bluff infuses the slow with the fast, as she writes soft melancholy and ballsy, catchy indie-rock. Whether she's letting the guitar drive the song, as she does on "Must Believe," a jagged, fast-paced indie rocker or she chooses to sit back and pour out her heart like on the title track, Dougher manages to always have your ear. She can also write laid-back warm pop songs ("My Kingdom"), which makes her and her albums, especially The Bluff, such a delight.

With The Bluff there is something about Sarah Dougher that has you hanging on the edge of your seat. Her lyrics are good, she has a mesmerizing voice, and the instrumentation is solid. But there is something more, something you can't put your finger on, that makes you want to keep listening, keep taking in the music, as it warms your soul and makes you feel good about life in general. Sarah Dougher's The Bluff is at times melancholy, but the overall demeanor of her voice and instrumentation uplift you, giving you hope. I'll give this an A-.