Figurine
The Heartfelt (March Records)
By: Alex Steininger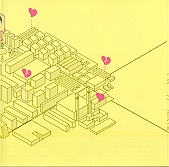 Figurine's brand of pop music is highly infectious and danceable. However, it is not dance-pop like Britney Spears or any of that teenybopper shit. It is lush, melodic indie-pop with an electronic beat pulsating through a majority of the songs, giving it that upbeat, dance club groove that will instantly win you over and have you dancing until you collapse. And there aren't a lot of indie-pop bands that can say they're able to do this. And none quite as good as Figurine.

The album, The Heartfelt, is chalk full of lighting fast drums machines, enticing melodies, and attractive boy-girl vocals that make you want to swoon over the music as much as you like to listen to it. These are well-built, beautiful songs that are so much more than just mere pop songs. These are songs to live too. I'll give it an A.