Benton Falls
Fighting Starlight (Deep Elm Records)
By: Alex Steininger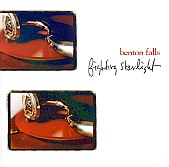 Benton Falls is very emo. There is no denying that. Listening to Fighting Starlight will make you want to cuddle up into a ball, start to shake and cry, or track down the band and tell them that you feel their pain and everything will be alright. Even if they're not singing about something painful, the vocals dredge up painful memories, pulling on your emotions, and wearing you down, until you give in and feel at least a little pain.

Musically they also are emo, writing mid-tempo, heart-wrenching guitar-based melodies that sparkle and shine with today's letdown and tomorrow's failures. Though, their slight-rock edge helps keep the songs from annoying you, making you feel like Benton Falls is a friend in need of your attention. So, without even realizing it, the album grows and grows on you. I'll give it a B.