The Plus Ones / Travoltas
Split CD-EP (Asian Man Records)
By: Alex Steininger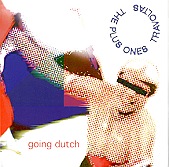 Ex. Mr. T. Experience member Joel Reader's new band, The Plus Ones, deliver three garage rock/power pop tracks sure to make you jump about, sing along, and shake to the gritty, R&B-esque influence in their rock sound.

Also on the album is the Netherlands' Travoltas, delivering three Ramones-esque sugar-pop-punk tracks with vocal harmonies like the Beach Boys, if they were punk. This is crunchy, tearing pop 'n' rock that will get you up off your ass and moving.

A good EP with three solid songs from each, I'll give this a B.