Jetlag / Lonely Kings
Split CD-EP (Sessions Records)
By: Alex Steininger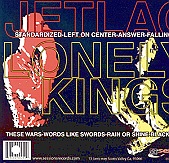 Jetlag and Lonely Kings both offer up four punk rock songs on this split CD-EP. The first four come from Jetlag. Their style of punk is loud, abrasive, and explosive, going off like a firecracker with every bit of snare. The vocals shout while the band hammers away. A bit of an emo feel flushes out the songs, giving them a different approach and helping to keep them from going stale.

Lonely Kings approach things with a bit more pop, preferring pop-punk over the hardcore. High-octane, hook-y punk songs with a bright, melodic sheen, you'll find yourself singing along to these dynamite pop songs.

Both bands make this an interesting split, because they're similar enough to warrant a split CD-EP, but they're different enough to not come off sounding like the same band. I'll give this a B.