All Things Must Pass
A Tribute To George Harrison
By: Rick Cipes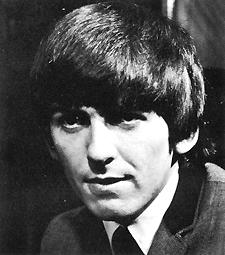 November 30, 2001

I read the news today, oh boy

Former Beatles great, George Harrison, 58, succumbed to his battle with cancer yesterday, somewhere amongst the City of Angels, with his wife, Olivia Harrison, and son, Dhani, by his side.

One can only pray that many angels were present to assist him on his mystery tour.

"He left this world as he lived in it, conscious of God, fearless of death, and at peace, surrounded by family and friends," the Harrison family said in a statement. "He often said, 'Everything else can wait but the search for God cannot wait. And love each other.'"

At the age of 13, George bought his first guitar and befriended Paul McCartney at their school in Liverpool. The connection led George to John Lennon, who had founded a band called the Quarry Men, a band which Paul played in. George was subsequently allowed to sit-in if one of the regulars didn't show up. Eventually, the cream rose to the top, and the virtuoso guitarist became a regular, playing lead for the most powerful force in rock n' roll ever, the Beatles.

George, along with Ringo Starr, played a supporting role to John and Paul, often times finding his guitar solos buried under the heavily rhythm-influenced guitar of John, and his song compositions rejected in favor of the prolific duo's. But during the years of Beatle dominance (1963-1970), George still played a major role in not only helping to change rock n' roll history forever, but cultural history as well, influencing the world on everything from fashion to religion, and on to mind-altering trips to far out places.

After the Beatles split apart, George was finally able to demonstrate his own, quite remarkable songwriting ability on his incredible solo album, All Things Must Pass; many of the same songs were previously written for Beatle albums but did not make the cut.

In addition to his solo career, George played the role of rocking Nelson Wilbury of the Traveling Wilburys, a super group which recorded two solid albums together, and included Bob Dylan, Roy Orbison, Tom Petty, and Jeff Lynne. He also helped set the trend for benefit concerts when he organized the Concert for Bangladesh, after being influenced by the starvation he saw caused by the war between Bangladesh and Pakistan.

His passion for irreverent humor also led him to form Handmade Films. The company produced several projects, the most popular being Monty Python's hilarious, The Life of Brian.

In some people's eyes, George never lived up to his potential as a solo artist, but perhaps this is exactly how George...always the most sensitive of the quartet to outside pressure...wanted it to be, refusing to live his life A.B. (After the Beatles) based on public expectation and scrutiny. Make no mistake, while he had a blast with the Beatles, it was the music and the message that mattered most to George, not the fame and fortune.

Among songs George wrote for the Beatles were "Don't Bother Me," "I Need You," "If I Needed Someone," "Taxman," "Love You To," "Within You, Without You," and "While My Guitar Gently Weeps."

Today, as we mourn the passage of our second beloved Beatle, the world can hear that guitar loud and clear.