VARIOUS ARTISTS
Sunshine Days: Pop Classics of the 60's: Volumes 4 and 5 (Varese Sarabande)
By: Gary "Pig" Gold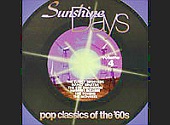 The only real, true, authentic way to experience the Golden Daze of Sixties Pop-Rock was to tune in to the wonderworld that was then Top Forty Radio. Yes, back in that glorious pre-fragmentation, demographic-free era when The Beatles could be found happily sharing the airwaves with The Seeds, Roger Miller, Louis Armstrong and the Singing Nun, the song still ruled, and no matter what you looked like, where you came from, or what you wore, if you had a good two minutes fifty to offer, you'd get on the radio. Period. Unfortunately, those days are LONG gone, and save for a few shining exceptions (such as the also long-gone "Cruisin'" album series) it really has been difficult to re-create on record just what a miraculous creature AM radio once was.

Varese Sarabande are trying their absolute damndest, however, and their "Sunshine Days" and especially "On The Radio" series - despite a few questionable stereophonic mixes here and there - offer an absolute cavalcade of authentic chart-toppers from the Sixties and Seventies; from Booker T. & the MG's to Petula Clark. Why, even their "Hey! Let's cash in on all this Nouveau-Lounge shtick" "Burt Bacharach Songbook" collection sports more than its fair share of classic gems (would you believe "Walk On By" by-- ISAAC HAYES?!!) that make ideal driving-down-the-coast or vacuuming-up-the-basement music. And just WHAT, I implore, is wrong with THAT?