The Moldy Peaches
The Moldy Peaches (Rough Trade)
By: Martin Royle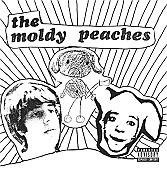 You know those kids, those really weird kids who giggle too much in the back of your science class? The ones with the guitars, who play those songs sometimes? It's like, campfire music. You've never heard it before but it seems really familiar. When you here what they're saying, you can't help but wonder ........'who mistook this crap for genius/who is going to stroke my penis?' There's something happening here. What it is, ain't ex-ak-ka-lee clear.

The Moldy Peaches are not a joke band. That's not saying they're not funny, cause they are. They're hilareous. What the Moldy Peaches are is an honest to god American folk bank in the grandest tradition. Like Bob Dylan or Jonathan Richman, The Moldy Peaches capture the whispering voice of this country, at a time when it so desperately needs to be audible. Think of the sincerity of Belle and Sebastian, but from an American voice. Lisa's kissing men like a long walk home while The Moldy Peaches are sucking dick for ecstasy. You might not know it, but you've been thinking this shit for years.

The Rough Trade Release is the kind of album you gotta have, a real 'hey-man-listen-to-this-shit' kind of album. It kicks off with the adorably frank "Lucky Number Nine", where Kimya and Adam testify to the ills of modern music. It's not that they don't like modern music, you know, they just wish it was easier to get laid. Sound familiar? It's funny cause it's true.

The next track, "Jorge Regula" is a love song like "Just Like Heaven" is a love song; it captures a moment between two people, just a second of their lives, just two people in love talking. The Moldy Peaches are so very good at using this boy-girl dueling vocal dynamic, like on "Steak for Chicken". Here, double track vocals duck and weave between childlike innocence and perverse lunacy. America's youth is somewhere in between.

"Now hold up marty", you say, stroking my thigh, "you can't be fucking serious. The band that wrote 'Who's Got the Crack' with lyrics like, 'there's no such thing, as a harmless joke/there's no such thing, as a gentle toke/who's got the crack', That band means something?".

No, they don't mean a thing, and that's just the point. The Moldy Peaches are good fun. Very good fun.