Baba Signal
Star Single 7" (Baba Signal)
By: Gary "Pig" Gold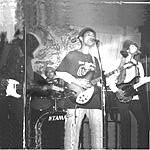 Seven solid inches of pure vinyl magic from a band you probably have never heard of, but SHOULD.

I know not one word of Japanese, so I haven't the slightest idea what these four guys (yes, from Japan) are singing about. But music being yer universal language, as they say, I know enough to be able to tell you this: BABA Signal are Good. BABA Signal are GREAT. And BABA Signal have herein produced one heck of a fantastic little record!

Side A, handily subtitled "The Big Side" for us Westerners, builds in a slowly hypnotic Teenage Fanclub sorta way, establishing a killer guitar pattern (atop which voices rhythmically chant "ba ba ba") that's only broken about three quarters through with a delightfully unexpected, expertly executed Lennon-like twist-of-a-chord. Then the tag-line, "Everybody's gonna be (a) big star," plops perfectly into the entire cycle as the proceedings slowly but surely wind to a close. And, yes, Big Star indeed: there's one band BABA Signal certainly aren't afraid to wear upon their collective sleeves, as it were --as the flipside of this record especially slams home (this time concluding with a most crazily raucous whoop 'n' holler session unheard since the glory dates of Johnny Rivers' Whisky A Go-Go years).

It may well take, literally, a half-world of searching in order to grab a Star Single for yourself, but the trip will MORE than be well worth your while, I guarantee.