SHOW REVIEW: Travis
Washington D.C. - October 2, 2001 (9:30 Club)
By: Martin Royle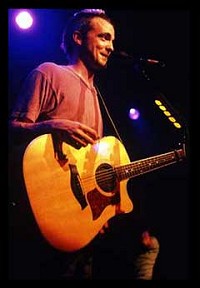 It's rare when you can say a show was inspiring. Then again, it's rare that a guy proposes to his girlfriend onstage, it's rare to here Travis cover "Hit me baby one more time", and it's rare as shit to see a band at the height of their popularity play like they want to win you over. Hope glimmers like the ocean retreating from the sand, and sometimes a band's not just a band. Such was Travis at the 9:30 Club.

Travis has always been able to soak a crowd in unassailably good vibes, it's damn near their specialty. So when the first notes of "Sing" hit the room I wasn't surprised that any hang-ups I had about that song in particular and "The Invisible Band" in general disappeared faster than cocaine at an orgy. From "Sing" to "Writing to reach you", right into "As you are", each song played with more energy, more love for the audience, than the last. Dougie bopped, Andy rocked, Neil swayed, and Frannie, well he just frannied all over the place.

It's something you gotta see. The guys wants everyone to be happy, this isn't bullshit is what you realize. Musicians today are mostly cock faces, either polluted by ego or colored irrelevant by pretension. Frannie's not just a breath of fresh air, he's a Gail force wind. For example, after a flawless six or seven songs, he stops to explain to us why the most important thing you can do in life is help people, even if they don't thank you for it. Then, just to thank you for listening (this is honestly how it feels) the band kicks into a beutiful version of "Turn", with Dougie holding down the second verse's vocals.

Everything settles down for two songs, as the band goes through "Last Train" and then Frannie plays "20" solo. This last track, with its play by play of adolescence, holds special meaning for a crowd that needs guys like me to buy it beer. But it's wonderful, the MTV generation stumbles into something cool, the kids are alright.

Then Frannie asks for someone to go upstairs to grab him a piece of paper. While they're waiting, Frannie and Dougie, laughing and joking with the crowd the whole time, do a verse and a half of "Hit me baby one more time." When the roadie comes back with the paper, Frannie announces that someone in the audience had been writing the band on their message board. "Is Dustin in the room", Frannie asked. This guy, about 7 feet to the left of me puts up his hand. "Dustin, I believe you have something to ask Audrey?"

To the cheers of everyone in the place, this guy goes onstage and proposes to his girlfriend. The girl said yes. Travis plays "Flowers in the window", people are crying everywhere. Actually moving.

The rest of the show, and there was a lot more (over two hours all together) was incredible. They played "Saturday night", a favorite of mine, "Why does it always rain on me", to which the crowd sang the whole second verse, and finished with ever bounce-able "Happy."

Every time I see these guys I walk away with my faith in the tangible power of music restored. Thanks again lads.