INTERVIEW: Death Cab For Cutie
Indie's Rising Stars (Barsuk)
By: Alex Steininger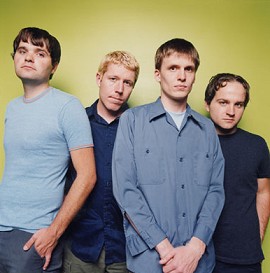 Death Cab for Cutie is arguably the hottest indie rock band touring the nation right now. A combination of smart lyrics, bright melodies, and subdued rock, the band is a capable of creating highly combustible emo-rock songs, soaring indie rock hooks, and jagged beats, while still having a boyish charm to them. The same naive charm you find in children and young adults. But with a slight compressive slant to it.

Their latest is The Photo Album, a stellar collection of expressive, sparkling, untouchable songs, laden with fresh rhythms and wandering guitars that drag you in.

Between three full-lengths and an EP, the band has risen in popularity, going from wondering if they'd sell 1,000 copies of their debut, Something About Airplanes to seeing if they can sell 100,000 of The Photo Album.

"A lot of it has to do with touring, playing a lot of shows, repeating cities and hitting towns a few times in 2-3 months," states Chris Walla, both a member of the band and their engineer/producer. "It seems people are into us because people are buying the records in those towns and coming out to support the shows."

The band, fronted by Ben Gibbard, is a collective vision, though Gibbard is the driving force, at least in terms of songwriting.

"Ben will use his Mac, his four track, or whatever and come in with a full demo of the songs," says Michael Schorr, drummer for the band, on Death Cab's songwriting process. "We tool them out to some degree, but sometimes Chris will go 'we should do this, or change this part' or Nick will change a bass part, or I'll change a drum beat. But, for the most part, they're finished when he brings them in."

"They change somewhat," adds Chris. "If it's something Ben's not sure of, we re-build them from the ground up. But, yeah, for the most part, they're almost finished when he brings them to us."

"When it comes to writing, Ben is more or less in charge," Michael informs me. "When it comes to production, Chris is more or less in charge. It's a formula that works really well for us."

"When it comes to recording, Ben plays his part and then goes and plays Playstation. At that point, it gets turned over to me," Chris tells me. "But, we all listen and if someone hears something they don't like or that isn't working on tape, they'll call bullshit."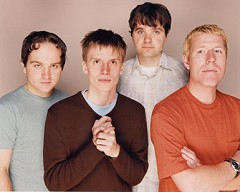 The band has had a lot happen to it since its last album lauded critical praise from both major publications like Spin and zines alike. In the band's eyes, however, the most significant thing that has happened since their last full length, We Have The Facts And We're Voting Yes is the purchase of a recording studio by their label, Barsuk Records.
"The most significant thing that has happened since We Have The Facts is that Barsuk bought the studio in Seattle that used to be John and Stu's - Reciprocal, the birth place of grunge as it were. That's in Barsuk's hands now," explains Chris. "We recorded the record there and Barsuk owns it, and I pretty much run and manage the place, so we recorded the record for pretty much nothing. That's been wonderful. A huge opportunity and occasionally a pain in the ass, but mostly a huge opportunity. We have a lot of leisure and time to work things out.
" We Have The Facts got dragged all over the place. For awhile it was at Nick's mom's house, then it was at my mom's house, and then back to Nick's mom's house. The best thing about the new record is that we had a dedicated space to record the record. I mean, we could have recorded it on 4-track and as long as we had a dedicated space, it would have felt a lot more relaxed and comfortable. Bouncing around is not a good way to record a record, at least not for us."
With critics and fans alike biting at your heals, bands have been known to crumble, to either succumb to the hype and churn out a mediocre-at-best record or just give up, sure they'll never be able to re-create the magic again.
Death Cab for Cutie, however, avoided that curse, partially by being able to divert the pressure, not feeling pushed to follow-up We Have The Facts, and just record another album.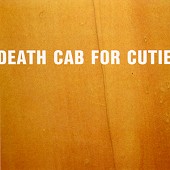 "I had a lot of pressure coming into this album," says Michael. "I'd never recorded with these guys and I wanted things to run smoothly. So, there was a lot of pressure on me coming into The Photo Album".
"There was more pressure between Something about Airplanes and We Have The Facts than there was between We Have The Facts and The Photo Album," says the relaxed Chris, not giving it a second thought.
"I feel pressure in the producer chair, though," Chris adds after a few moments. "It's not like the guys are vibing me when I'm doing it, but I want to do right by the guys performances and parts. And the thing is, there is always a lot of ways to do right by someone's performance, and I want to make sure I choose one of the right ways rather than the millions or wrong ways. I have to answer to these guys before I answer to anyone else, and that is the single hardest thing about being the producer."
Death Cab for Cutie is currently on tour, filling clubs across the U.S.