Various Artists
O Brother Where Art Thou?: Music from the Motion Picture (Lost Highway)
By: Alex Steininger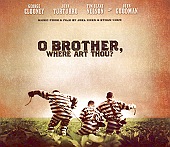 Award-winning film O Brother Where Art Thou?, a modern take on the Odessy, by Joel Coen and Ethan Coen, has wowed audiences worldwide. One of the biggest attractions of the film is its outstanding soundtrack, featuring Alison Krauss, Norman Blake, Gillian Welch, Emmylou Harris, and John Hartford, to name a few.

From the gospel of Alison Krauss' "Down to the River to Pray", the bluegrass of Alison Krauss and Gillian Welch's "I'll Fly Away", and more Gospel on "Didn't Leave Nobody But The Baby," by Emmylou Harris, Alison Krauss, and Gillian Welch, you'll never be strayed wrong. Also featuring the old time jamboree of The Soggy Bottom Boys (the band of bandits in the movie), this is hands down the best soundtrack - ever. Burning hot with sounds of the best bluegrass, the producers of O Brother Where Art Thou? and the participating artists have managed to create something that sounds old and timeless, while making it completely contemporary. I'll give it an A+.