Black Box Recorder
The Worst Of... (Jetset Records)
By: Alex Steininger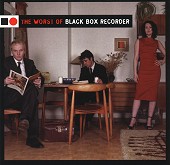 A collection of b-sides/outtakes/demos, The Worst Of Black Box Recorder is quite possibly one of their best releases yet. Dark pop songs soaked in melancholy and lust, the songs come across like the lover you can't shake, but don't really want to. You know he/she is bad for you, but you love the pain and drama, and can't get enough.

This record is just like that. You'll get lost in its seductive maze, want to find your way out, but once you've found out how to get you, you'll quickly re-lose yourself in its tangled web, lusting for it over and over again, never satisfied when you get it, and screaming for more.

The haunting vocals, the complex pop, and the darkness of night settled in every note, Black Box Recorder are the ultimate pop band you'll never want to shake. And, with consistency and a knack for writing some of the most overwhelming songs out there, you'll never have to. I'll give this an A+.