VARIOUS ARTISTS
Living Tomorrow Today - A Benefit for Ty Cambra (Asian Man Records)
By: Alex Steininger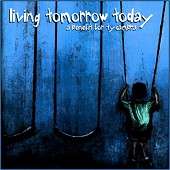 A benefit for Ty Cambra, a child suffering from a disease called Adrenoleukodystrophy, also known as "Lorenzo's Oil Disease," a rare disorder characterized by the loss of the fatty covering (myelin sheath) on nerve fibers in the brain. The basic defect is the inability to degrade very long chain fatty acids that are found in the blood plasma and tissues of Ty's body. These fatty acids accumulate in this brain and adrenal glands, causing his nervous system to deteriorate.

In order to pay for the climbing medical bills, as the boy's life slips away, bands such as The Lawrence Arms, Midtown, Saves the Day, The Blue Meanies, Alkaline Trio, Reggie and the Full Effect, Home Grown, and Face to Face, among others, have gotten together to give a punk rock salute to a boy who's smile has brightened all those in his life.

Buy this record to help out Ty and his family. Also, additional donations can be sent to Asian Man Records, attention Ty Cambra, PO Box 35585, Monte Sereno, California 95030. I'll give this an A.