VH-1'S BANDS ON THE RUN
Harlow
By: Alex Steininger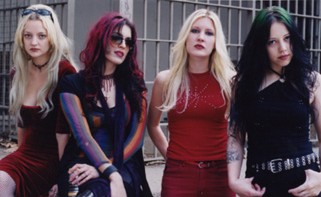 L.A.'s baby Goth-rock quartet Harlow didn't have an album. They had never toured. Inexperience seemed to be working against them in every possible way. Then they got their big break. They were one of four bands chosen to join VH-1's band version of Survivor, Bands on the Run.

After sixteen weeks on the show, earning national press not so much for their music but for their sexuality (portrayed as Gothic lesbians) and their marketing gimmicks (Harlow dolls sold throughout the show which are available on their web site, www.harlowland.com), Harlow, despite losing the show to an indie version of the Goo Goo Dolls named Flickerstick, has successfully jumped into the national spotlight.

Former Germs, Nirvana, and Foo Fighters guitarist Pat Smear is producing the band's debut full-length, which should help them win back some credibility they lost by being one of the bands on VH-1's reality show.

When it comes time to talk about their debut full-length, touring plans, and strategies to capitalize on their massive national publicity, Harlow's lead guitarist, Rayshele, seems to want to speak in sarcasm rather than depth.

"Not much," she says, on what to expect from Harlow's debut full-length.

Though, with the show being so much of the band's existence at this point, and the main focus of all their interviews, Rayshele starts to get a bit more articulate when the conversation turns to Bands on the Run. In particular, how her band came to be one of the four bands.

"At first I didn't want to do it," Rayshele states. "I went along for the interviews and for the experience. [But] then we got turned down."

She continues, "The auditions went on without us. Suddenly, two days before the pilot we were called saying 'you're on'."

Always adding humor to even the most serious of conversations, Rayshele is quick to point out that "The Milwaukee Metal Fest was the same time as the filming. I got kicked out of my band for a day."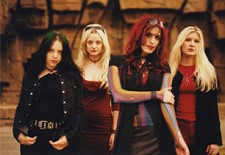 A stunning, sarcastic female perfectly crafted to live her life out as a rocker chick, Rayshele looks back on the show with plenty of laughter.
"We get into all the Goth & lesbian venues free now," she says on the benefit of the show's popularity.
And if there is one thing she hates about the show, she sums it up in one word, "Ass Cracker", referring to competing band, San Diego's punk-trash-pop band Soulcracker.
Look for Harlow's debut full-length A.D. to hit stores in September with a West Coast tour to follow and national dates beyond that.