INTERVIEW: The Bell Rays
Punk's Soul Child
By: Alex Steininger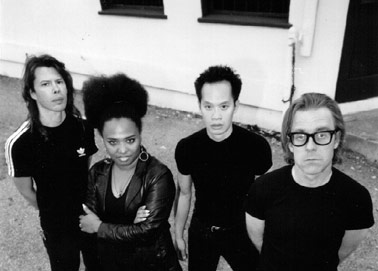 Los Angeles' The Bellrays have earned the respect of musicians, critics, and fans alike, with everyone from MC5's Wayne Kramer to several top-notch journalists singing the praises of the band. With their growing popularity brought forth by their mixture of Arethra Franklin-esque vocals and MC5-armed rock, The Bellrays bring forth a modern blast of soul-punk. Maintaining control of their ideals and music, while giving audiences at every stop a spectacular display of rock that will soon be embedded in their memory for years to come, The Bellrays have established themselves as one of the most unique, creative bands on the market today.

"There is nobody out there trying to incorporate or do the things we're trying to do. At least not that I've heard," says Bob, the band's bassist and co-songwriter.

"I want to say, 'of course we fit in a musical landscape', but I don't know if I would want to be associated with any musical landscape," he continues.

"People are always talking about punk and soul like they've never been mixed before, like our combination is so unique. And that's a bunch of hogwash," states Lisa, the band's lead vocalist. "People were doing that when punk first started. The Beatles and The Ramones were doing it. You just didn't have us doing it before. That's the only difference."

"It's not a new thing. It's all about doing what makes you feel good," adds Bob.

On the surface the band may seem like a Detroit rock band with a Motown personality. But with four talented musical minds behind the band, and many influences coming into play with each and every song, the band's tag doesn't begin to scratch the surface of what they're all about.

"There is definitely a jazz influence," agrees Lisa when I ask about the band's jazzy leanings underneath the guitar noise. "Tony has his influences, which I couldn't begin to name. But I know he is into Miles Davis and John Coltrane. Those are part of his scope. My influences are... I listen to so much stuff, it's hard to pin down what to say for an interview. There are obvious vocal influences that people pick up on. There is so much. I think the stuff I personally like is more along the lines of Scott Herring, Lee Morgan... horn player stuff that was really aggressive, but very sexual at the same time."

"I think that is true for any music. There is always those people that will listen for under currents and what is going on as a whole as opposed to the people that listen to it and go 'what a rocking drum beat'," remarks Bob on the people's need to stereotype The Bellrays as a soul-punk band.

"That's just what people tend to pick up on, the surface, obvious stuff," he furthers. "They may not even be aware that they're reacting to other stuff. And that is what makes commercial radio the dead form that it is right now. People cater to that surface sound. If one person likes one singer, they throw out ten more like him. It doesn't matter that the original singer was doing that because that is how they did it and that is how they were expressing themselves. If it sells, there are ten more like them trying to copy their sound to sell."

"Who is going to try and be Joni Mitchell?" Lisa jumps in. "She rocks like nobody else. You can't re-create that. The record industry can't create that. But, modern music today doesn't have a lot of people hitting the center and really doing that. Nowadays you have to have 18 year old boys take off their clothes so people can see the sex that a really good singer can make you visualize with his/her voice."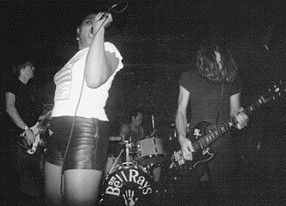 Lisa sees no limit to the band's ability to captivate audiences and win over anyone. "I think we're the pin ultimate for both commercial radio and the underground. I thoroughly and completely believe that we're just one of those bands that can do just about anything. And I think people, whether they're ready to accept it or not, will be able to find something that appeals to them, without us having to change."
Change is something the band has no intentions of doing, refusing to fit into any mold or stereotype, creating and recording their music at their practice space, on an eight-track, and maintaining every ounce of vitality and credibility they have.
"We believe what we're doing," says Lisa proudly. "Most major label bands don't believe in what they're doing. They may believe they're the greatest, but they don't believe what they're singing about. They don't have a real visceral connection to the music - the bass, drums, and the complete song. We have that with The Bellrays."
"Religion is about a belief or faith... something means something, something is true. A faith that is true. We feel that way about music," states Bob. "That is our thing, that this means something to someone else. It means something to ourselves first and foremost, but also the belief that it means something to someone else."
We soon begin talking about the band's recording process and how they get their aggressive, energetic live show on to disc.
"We don't use overdubs. It's all recorded live," says Bob with a smile.
"Bob engineered both of the records, which is a point that never gets brought up and there is no liner note credit for it or anything," informs Lisa.
Bob continues. "We set up and play! Basically, that's it. A lot of people go into the studio and see the studio first and foremost as the most important thing. That is not the most important thing to us. The performance that we're putting on tape is the most important thing to us. We use the studio to capture as much of the performance as we can. There is no amount of technical know how and technological advances... no matter how far we get... we'll never bring a performance out of something that wasn't performed. The crudest equipment can still get the best songs out there. Listen to a Robert Johnson album, the two albums he has... they used the ugliest, crudest mic by today's standard. Sure, it was high tech then. But put it on and it's the voice of god right there. It's just right there.
"We don't do anything special in there, we just use regular mics and whatever recording equipment we have in here. We set it up, dink around with it a bit to make things sound more clear or whatever. But, other than that, it's just mic placement and push the button and play."
"And practice, practice, practice before you ever go in there to play," adds Lisa.
"We're firm believers that if you listen to those Beatles records that came out a long time ago, you can tell that they didn't just walk in there and play the songs, they practiced those songs forty times in a row before they put them to tape," explains Bob. "We adhere to the theory that if you can't get it the first two times, it is time to move on and try something new, and do the songs later or another day.
"We just leave the machine running, because sometimes something hits you and you get this feeling in the studio, and we like to capture as much of that as we can.
"It lends to the live-ness, and that is how we capture the live-ness of the band on the recordings, which is what we're trying to do." "That way you end up with honesty in recording, which is something I look for whenever I listen to music," explains Lisa.
I then ask them about their songwriting process.
Bob quickly answers, informing me that Tony and himself are the two chief songwriters in the band.
"Tony and I write words and music. Tony will come in with some songs and know from beginning to end how the song structure goes. He won't tell us not to sing a note this way or place it there, but he knows how the song should be structured when he brings it to us. He has a clearer view of that than I do when I bring in songs."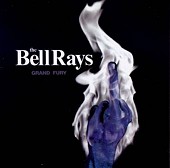 Listening to the band's latest, Grand Fury, might lead some to believe the band is militant rock, much like MC5 was in their political prime. But both Lisa and Bob disagree.
"I don't consider us a political band," Bob quickly says. "We're not telling you to get out and vote or anything like that. I see it more as a heartfelt discourse kind of thing. It's about someone asking you what you think about this and you're like 'stupid fucking people...'".
Lisa pauses for a second and then adds to what Bob was saying. "We're political in the sense that we're in the situation we're in, trying to get our music out there on our own, because we can't use the music industry to get us out there. Nobody is going to come and sign us just because there is too much going on with us. We want too much control and have too much to say about what we're doing. That makes us political by association."