Pinehurst Kids
Bleed It Dry (Barbaric Records)
By: Jason Fischer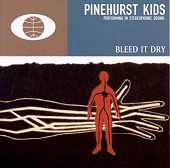 Lyrically emotional and driven by a sincere desire to create loud, rockin' pop songs, the Pinehurst Kids, led by Joe Davis' gripping voice and heart wrenching lyrics, often get tagged as an emo band. But one listen to the guitar-driven sonic-ness of Bleed It Dry will prove them to be nothing but a sharp monster pop band capable of making you shake your ass, sweat, sing along, and dive into the pit. All while feeling something, whether it is the earth shaking beats or Davis' keen sense of observation and ability to detail life through the views of himself and others.

"Rollover" delivers the speed and the hooks, racing along, three-minute pop song cranked at top volume and with the pedal to the metal, as Davis declares "if they're all that matters, why they holding you down?".

Then on "Big Fight," the band slows things down a bit, choosing to hit you with mass rather than speed. The guitars buzz and churn, while the rhythm section cranks out the massive power. The chorus hits and things light up, hitting high-speed mode. Back to the verse and they sock you like a good head wound, as you sit there dazed, taking it all in, not knowing what to think.

"All I Know" is one of the album's slower songs, relying on Davis' very soft, tear-jerking voice that just bleeds melancholy.

The band stands up again bad journalism on the highly impacting "Shepherd To Lost Sheep," a song about an area journalist who chooses to pass over bands she doesn't discover, championing newer, un-established bands rather than anyone who's already made it to a certain spot in their careers.

Eleven songs, thirty-six minutes, and nothing but loud guitars, popping bass, and restless percussion, the Pinehurst Kids rock out like no other, creating fuzzed-out power-pop for those sick of the obvious Beatles influenced pop bands, choosing to rely on 80's and 90's post-punk instead. I'll give it an A.