Jennifer Maione
Jennifer Maione EP (self-released)
By: Jett Black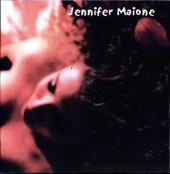 When I think of New York, I think of a foreign land of technology, mammoth screen TV's at busy intersections, over-crowded sidewalks, and intense commerce.

Now I have a new reason to think more fondly of New York... home to Jennifer Maione who with the production assistance of Riley McMahon unleashes a fantastic collection of music on a 3 track ep that seems far and away nothing like what I have envisioned of New York.

Rather, music on this ep brings me back to hot steamy nights of cats on outside my doorway and behaving much like everyone else in a summer heat that seems to last year round. Back to a region of the Southwest USA where relaxation in the balmy nights and lazy afternoons begs for a musical score that these three songs satisfy so well.

Jennifer Maione pulls inspiration from Blues, Folk and Rock music such as Fleetwood Mac, Joni Mitchell, Patti Smith and CSN & Young into these three songs, and certainly, I'd love to hear a dozen more. Work on rounding out a full-length CD is currently in progress. And maybe I will catch some of the latest tunes soon enough when Jennifer Maione crosses 3,000 miles in September to join the last two legs of TourBaby 2001:

Tourbaby 2001 Acoustic Music Tour, Sept 1 - 30, 2001. Touring the West Coast from Vancouver, BC - L.A., California. http://www.sixteenthnote.com/TourBabyPromoPressKit.htm

Here are the tracks appearing upon Jennifer Maione's EP...

Jennifer Maione - "Everything" - (4:28)

Sweet work on the guitar! Sexy. Very Sexy.

I can feel a sunset pouring through a window bathing the bedroom in ocher light.

Riley McMahon is listed as the guitarist, might as well be Carlos Santana.

Setting the mood entirely for these lyrics which seem to fit like a glove.

The music, without vocals, as an instrumental would serve as sufficient engaging entertainment for my senses.

Now, pour in vocals contributed by Jennifer Maione and this experience could not be more complete!

Heated, honey-thick vocals, inspired and filled by a sexy sense of confidence, wash over the audience.

This track, featured on the TOURBABY 2001 Free Music Sampler, drew me into wanting more music put out by Jennifer Maione.

I hope to hear much more of her music in film, on radio, as well as on many more round plastic compact discs.

Jennifer Maione - "Mystical Thing" - (3:38)

Does it even need to be said that Jennifer Maione has an amazing vocal talent?

The microphone loves her voice! Audiences, I'm certain must be eating out of her hands.

Percussion adds a saucy elegance to this addictive track. In this track, Jennifer reveals her "one desire".

A dangerous revelation in any romance, though I expect she's ready to face the music, and dance.

Jennifer Maione - "These Ties" - (4:56)

Oozing confidence, and a flirtatious reflection upon distance traversed between nostalgic heart strings and the heat of the here-and-now, Jennifer spins upon the sweetness of conceiving revenge. "This Girl is Now a Woman!" and she won't be tied down, now. I can see an audience clapping hands, slapping hips, dancing, grooving in admiration and inspiration.

Having heard a preview from this album on the TOURBABY 2001 music sampler featuring Jennifer Maione beside eleven other great musicians, the only surprise I find on this album is in its brevity.

Quite simply, it leaves me thirsty for more! The guitar work here will move anything with a heartbeat!

I can't wait to see this performed live!

I imagine that the TourBaby 2001 tour may become a testing ground for forthcoming album tracks.

Hands and hips will be traveling ...somewhere. Bring a date.