His Name Is Alive
Someday My Blues Will Cover The Earth (4AD)
By: Alex Steininger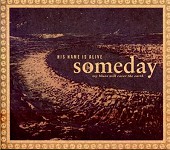 Hitting you like an old friend you haven't seen in awhile, on first listen to His Name Is Alive's Someday My Blues Will Cover The Earth you instantly feel like you've heard this before. The songs are electronica-driven slow pop gems, vaguely familiar, yet completely new. You just can't put your finger on it. Have you heard these before or is it just so oddly accessible, you think you've heard it, but you really haven't?

The latter is the most likely option. Don't get me wrong. These songs aren't immediately accessible, but they've got the old-time, worn feeling to them, in a modern way, that makes them seem so hard to pin down.

The lead female vocals carry each song, most of them sparse and quaint, that without her voice they'd fade off into the air. With them present, though, the songs take on a life of their own, slowly filling the area around you, before you become completely enthralled and just want to spin the album over and over again.

Incorporating the blues on "Karins Blues" and some R&B goodness on the title track, His Name Is Alive establishes themselves as a diverse, distinctive band best at playing jazz-tingled pop songs, though capable of stretching into light blues and other areas if need be. I'll give this an A.